High Rise Incident
Swift action by firefighters saved lives at The Cube fire in Bolton, new report finds
Many lives were saved by the full and immediate evacuation of The Cube student accommodation in Bolton during a major fire in November 2019, a new report has concluded. In addition, the swift and successful implementation of new Greater Manchester Fire and Rescue Service (GMFRS) operational procedures for tackling fires in multi-occupied residential buildings played a key part in the saving of those lives.
Now fire chiefs and local Leaders are sharing lessons to assist other Fire and Rescue Services across the country to learn from the firefighting experience in Bolton in how to address fires in tall buildings.
At the peak of the fire in the seven storey building on the evening of Friday 15 November, 130 firefighters were engaged in tackling the incident on Bradshawgate in the town centre. The GMFRS Cube Incident Report concludes that the fire was accidental and was caused by a discarded cigarette. The Cube Incident Report is published today (Thursday 30 July) and a separate detailed report into the origin, cause and development of the fire will be published at a later date.
The fire at The Cube spread rapidly and posed a real risk to residents' safety, the report finds. Two residents, trapped in their flats by fire, heat and smoke, were rescued by firefighters. One was pulled from a sixth floor window by a firefighter on a high reach aerial appliance while the second was assisted by firefighters to escape from a second floor window using ladders.
As the fire spread, it was quickly evident that the building was failing to perform in accordance with expectations, GMFRS used its Evacuation Procedures to ensure that a full and immediate evacuation was completed. Its successful implementation, and the early decision taken by the Incident Commander on the ground to implement the procedures developed and tested by GMFRS in the wake of the Grenfell Tower disaster, meant that despite the very intense and unpredictable fire, no serious injuries were reported and all 217 residents were accounted for.
Jim Wallace, Chief Fire Officer at Greater Manchester Fire and Rescue Service, said: "The speed with which the fire took hold and the devastating impact it had on the building was immense. I want to place on record my appreciation of the actions of all who responded to the fire at The Cube. They demonstrated great professionalism in the face of extremely testing circumstances.
"Residents of The Cube and in particular the Student Ambassadors displayed great courage as they became involved in a major incident. Our firefighters and incident command team worked in a high risk and rapidly developing environment and showed professionalism, effectiveness and dedication throughout.
"The reason we are publishing The Cube Incident Report is to share our experiences and what we learned with our partners and across the emergency services family to help them develop and review their own plans to deal with this type of major incident. Whilst there were no serious injuries, the way the fire spread rapidly was vast and although we did a number of things well we can always learn from reviewing and refining. It is really important as information emerges about the risks in buildings that we share what we have learned. I hope that that by sharing this report and our reflections, we can contribute to swift and effective firefighting and multi-agency response for any future incidents."
Mayor of Greater Manchester, Andy Burnham, added: "This report confirms that our firefighters did a truly outstanding job in tackling the fire at The Cube. They undoubtedly saved people from serious injury or worse and we all owe them a huge debt of thanks. I would also like to thank the vice-Chancellor and staff of the University of Bolton who provided exemplary support to their students at such a challenging time alongside colleagues from Bolton Council.
"What this report also shows is that, on the night in question, Greater Manchester's fire resources were stretched to the very limit. I will be sending a copy of this report to the Home Secretary and urging her to recognise that there can be no further reductions Government funding for fire services without putting communities at serious risk.
"The incident at The Cube also brought home the danger of leaving flammable cladding on buildings. It is essential that the Government puts in a place a programme of work to remove dangerous cladding from all buildings without any resident having to foot the bill."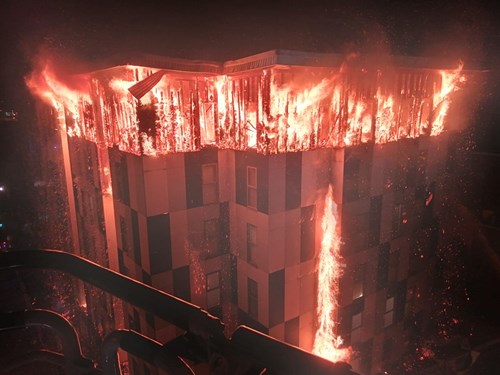 The Cube, which is privately owned and operated, opened in 2015 offering studio and en-suite cluster flats a for 221 residents who were primarily students. The seven storey building recorded as being under 18 metres was clad with high pressure laminate cladding.
At 8.29pm on Friday 15 November 2019, North West Fire Control (NWFC) received a 999 call alerting Greater Manchester's emergency services to the fire. The first fire engines were on scene within 3mins 17secs and crews immediately took action to secure the safety of the residents.
Within 25mins of the first 999 call the GMFRS Incident Commander at the scene declared that all floors of The Cube were involved in the fire. It appeared that most residents had evacuated, but this could not be confirmed and intense firefighting took place with the number of Fire and Rescue Service appliances – fire engines, hose layers, high reach aerial appliances – rapidly increasing.
At the peak of the incident 45 of 50 available GMFRS fire engines were attending The Cube or other simultaneous incidents across the city-region, including a gas leak, a vehicle fire and two domestic property fires where members of the public were reported to be at immediate risk. As a consequence, resources from Cheshire, Lancashire, Merseyside and West Yorkshire Fire and Rescue Services were mobilised to Greater Manchester to support GMFRS.
Tony Hunter, Assistant Chief Fire Officer for GMFRS, said: "The decisive actions and ingrained professionalism of firefighters and supervisory officers that night showcased GMFRS at our best. We had learned many lessons from the terrible tragedy at Grenfell Tower in the summer of 2017 and applied that learning to our own emergency response procedures.
"On the night of The Cube fire, GMFRS had already implemented training whereby all firefighters understood the risk of fire taking hold in the external walls of high-rise buildings and knew how to recognise it when it occurred. Our firefighters were also trained to actively monitor and respond to signs of a building that is failing in fire."
The Cube Incident Report offers learning and areas of refection for GMFRS. However, the Service believes that its overall response was a prime example of its high standards and professionalism and demonstrated the benefits of effective collaboration between partners. GMFRS worked alongside North West Fire Control, Greater Manchester Police, North West Ambulance Service, Bolton Council, the University of Bolton and Greater Manchester Combined Authority. Personnel from each agency responded by supporting operational firefighting, strategic decision making and relocating and supporting residents.
Bolton Council played a key role in supporting people following the fire. The council Leader, Chief Executive and staff were mobilised immediately and implemented the local authority's civil contingencies' emergency plan.
Cllr David Greenhalgh, Leader of Bolton Council, said: "We are extremely proud of Bolton's response to this devastating fire.
"I saw the fire unfold first-hand and witnessed the sheer bravery of all the firefighters. I can't compliment them and our emergency services enough for their exemplary response.
"Everyone rallied together. The council was a key partner in managing the response - our staff were on site immediately and helping with the recovery for weeks after the incident.
"I also want to pay tribute to the professionalism of all the partners involved - particularly the university, their fantastic student ambassadors, the housing associations who manage neighbouring accommodation and voluntary organisations who helped in the aftermath."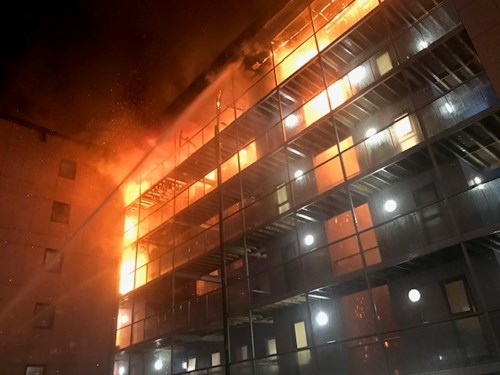 Bev Hughes, Greater Manchester's Deputy Mayor for Policing, Crime, Criminal Justice and Fire, added: "Despite the obvious risk from the very intense and unpredictable fire, no serious injuries were reported and all 217 residents of The Cube were accounted for. I want to praise our frontline firefighters and Incident Commanders and also thank others for their valuable partnership working both on the night and in the days, weeks and months that followed.
"The fire did, however, severely disrupt the studies and lives of a large number of residents, predominantly students at the University of Bolton. The loss of work, personal belongings and documents, and in the case of overseas students, passports and visa documentation, added to the immediate distressing impact of being involved in a very serious fire. Our thoughts remain with all those badly affected by events on that night – I want to convey my very best wishes for the future for all those students affected by the fire at The Cube. I hope an incident like it never happens again."
The Greater Manchester High Rise Task Force, set up by Andy Burnham as Mayor of Greater Manchester in the wake of the Grenfell Tower disaster, continues its work to bring together landlords of tower blocks across the city-region was well as the 10 Local Authorities, Universities, Housing Providers and other key services who can offer support to ensure that high rise buildings are safe or are made safe and residents feel safe Action spearheaded by GMFRS includes inspections of more than 500 high rise residential buildings across the city-region. Partners in the Task Force have worked to ensure that all services are prepared to respond to a serious incident, develop communications to support residents and inform the national picture.
In February, the Manchester Cladiators, the High Rise Task Force and the Mayor and Salford City Mayor arranged a lobby of Parliament attended by residents from high rises across the country, high-profile politicians outside Parliament to highlight the scale of the problem and call on Government to do more.
Chair of the High Rise Task Force, Salford City Mayor Paul Dennett, said: "Since 2018, GMFRS, the High Rise Task Force and industry experts have been warning Government that its focus on Aluminium Composite Material (ACM) was too narrow and that other cladding systems including high-pressure laminate also posed a significant risk in relation to external fire spread.
"The serious situation that developed in Bolton in November, and the more recent fire in a high-rise residential building in Manchester city centre in May which thankfully was quickly extinguished, show that the safety of high rise buildings remains a very real concern. For residents, this is compounded during the current coronavirus crisis as many are staying at home as much as possible to protect themselves and others. In Greater Manchester we have repeatedly called on Government to do more to address this national industrial crisis and to support residents. As GMFRS shares its learning from this incident I hope that the Government will do more to ensure all buildings with fire safety deficiencies are made safe and that the fire service is properly funded to respond to these significant and challenging incidents.
---
30/07/2020 12:55 PM