GMFRS Charity Operation Florian
Greater Manchester firefighters train Cape Verde crews with equipment donated to island fire service
FIREFIGHTERS on the island of São Nicolau in Cape Verde are putting new life-saving skills and equipment into practice, thanks to crew members from Greater Manchester Fire and Rescue Service (GMFRS).
Firefighter Jo Musgrave, based at Chadderton fire station, Watch Manager Paul Leonard, based at Blackley fire station, and retired Watch Manager Michael Howard flew to the island on 13 March to lead a training course with local volunteer crews. The sessions covered a wide range of skills, from water pumping and ladder drills to trauma care and incident command, and simulated scenarios including road traffic collisions, which are a priority for the local service. The training culminated in a public demonstration of firefighters' newly acquired skills.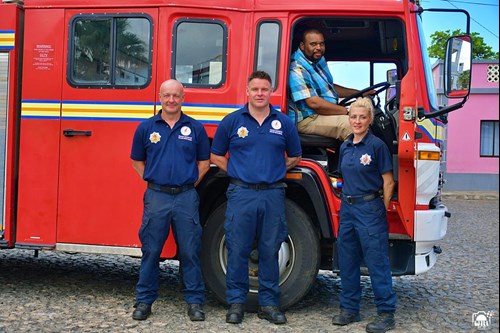 The course helped the São Nicolau crews get to grips with equipment donated by GMFRS firefighters in 2019, including a decommissioned fire engine and PPE. While the equipment arrived in 2019, the coronavirus pandemic meant that GMFRS firefighters were unable until now to travel to the island to train their Cape Verdean counterparts.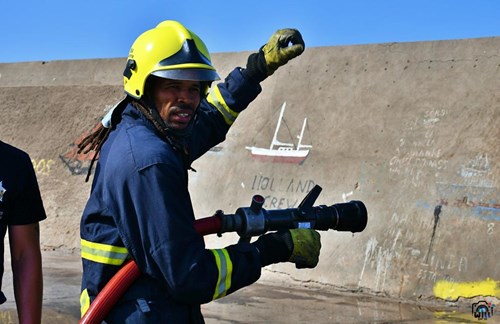 The initiative builds on a partnership with Cape Verde dating back to 2014, when residents on the island of Maio reached out to Operation Florian, the UK fire service humanitarian charity, seeking assistance with medical intervention capability on the island. Operation Florian works with fire services around the world to enhance capabilities through training and equipment donation.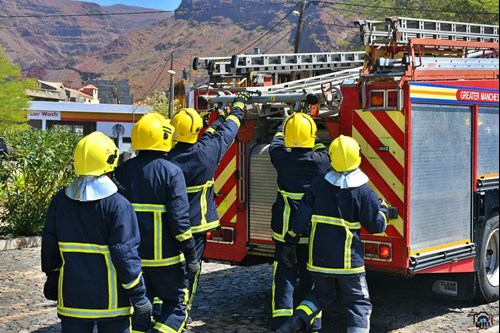 In 2016 Jo, Paul, and two other volunteers from Operation Florian carried out training sessions on the island of Maio, and since then the project has been extended to cover São Nicolau as well. It's hoped that other Cape Verdean islands will also be able to benefit from the partnership in future.
The trip was entirely fundraised by the team, who gathered donations from a range of activities including running a mile every day for a year, organising charity car washes, and working with local schools.
Firefighter Jo Musgrave said:
"It is a real honour to have the opportunity to work with firefighters from São Nicolau. We have built a lifelong relationship and have plans to develop the project further.
"Thanks to the hard work of my team, Operation Florian, and all the funds raised, they're now able to provide their community with an essential emergency response.
"I'd like to thank everyone who took the time to help with the fundraising, with a special thank you to Operation Florian, Greater Manchester Fire and Rescue Service for the donation of a much-needed fire appliance, and to Watergrove Trust in Rochdale and Kentmere Primary School for all their support raising money."
Watch Manager Paul Leonard said:
"Firefighters around the world have to contend with a variety of challenging situations, and the skills and expertise used by crews in Greater Manchester can be adapted by the volunteer firefighters of Cape Verde.
"It was fantastic to work alongside the volunteer firefighters helping them gain new skills to help their community. Their dedication and enthusiasm to the training were exceptional, and the team could not have asked for any more. The team is proud of how they embraced the training and what they achieved, and I'm sure the people of São Nicolau will be proud of them as well."
Retired Watch Manager Michael Howard said:
"It's been a privilege to be able to work alongside the volunteers in Sao Nicolau. It was a real pleasure passing on my knowledge and experience to the crew on the island and I am looking forward to the future of this project."
---
28/04/2023 14:15 PM