Monday, July 27, 2020, saw the launch of a new water safety campaign built around the stories of family members and friends who have lost loved ones to accidental drowning.
Mums, friends, sisters, an uncle and a step-dad - whose lives have changed forever since losing a special person - have come together to help reach out to others in an attempt to stop them ever experiencing the same heartache as them. Each one of them has taken part in a short film with GMFRS supporting the campaign to help keep people safe around open water.
The campaign comes as figures reveal that 147 people accidentally drowned in open water in England last year.
Since June 2016, GMFRS firefighters have been called to 31 fatal water incidents. Sadly, many of those who drowned were young men who got into difficulty after jumping into open water on a hot day to cool off over the summer months, however, these incidents can happen at any time.

As part of the campaign a Water Safety Day of Action was planned for Friday, July 31, 2020, however, due to updated Government guidance around COVID-19 this has been postponed.
The dedicated water safety campaign includes lots of targeted social media activity, sharing the videos of family members and friends, and new banners being put up in areas where young people have drowned or tend to visit with their friends.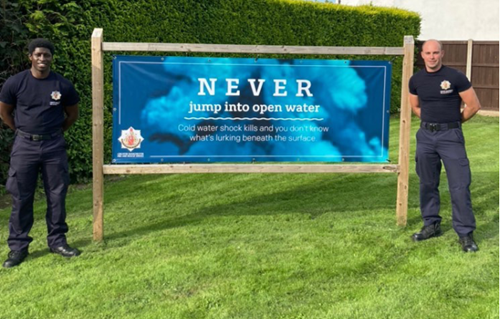 New campaign banner outside Cheadle Community Fire Station, Firefighters Parris and Howard
You can help support the campaign by following GMFRS' social media channels and sharing messages: Twitter @manchesterfire, Instagram: manchesterfire, and Facebook: GMFRS. #WaterSafety and #DrowningPrevention will be used during the campaign.
You can read the press release launching the campaign on our website.