News GMFRS Charity
Latest recruits put on a display for dignitaries, families and trainers
Today (Wednesday, April 17) 36 trainee firefighters celebrated with dignitaries, trainers and their families at the first Passing Out Parade of 2019.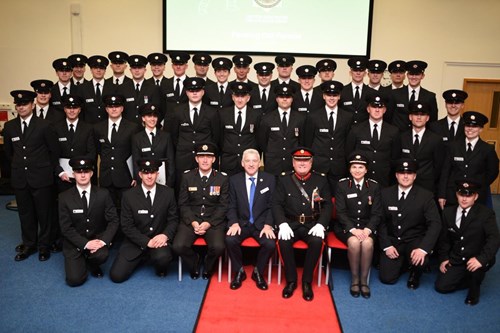 Each recruit has been put through their paces during an intensive 13-week operational training course to get them prepared to take on the role as a competent firefighter in Greater Manchester.
They will now be posted to stations across the city-region to continue their two-year apprenticeship.
Attendees watched the recruits show off their new skills, giving demonstrations on how the service uses the latest technology to save lives. A variety of scenarios took place on the training yard at the Training and Development Centre in Manchester, including extinguishing fires, rescue of a person and CPR.
Each firefighter was presented with a certificate by Vice Lord-Lieutenant of Greater Manchester, Paul Griffiths, to mark the end of their operational training.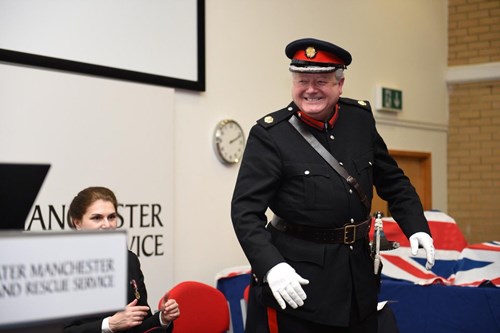 Four special awards were handed out by Deputy Chief Fire Officer, Dawn Docx and Chief Fire Officer, Jim Wallace to stand-out firefighters. The awards are:
Endeavour award – trainee firefighter Dean Martin
Academic award – trainee firefighter Matthew Lovick
Fitness award – trainee firefighter Anthony Crumlish
Silver Axe award – trainee firefighter Craig Jacobs
Last weekend (Saturday 13 April) the recruits took part in a fundraising event at intu Trafford Centre to raise money for The Fire Fighters Charity.
The recruits raised £3,030.35 for the charity by rowing all day in full firefighter kit. They presented a cheque to Cath Palmer of The Fire Fighters Charity, at the celebration event.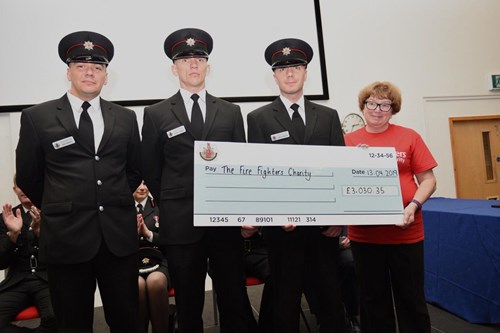 Closing the ceremony, Chief Fire Officer Jim Wallace said: "I'm always humbled when I come to this event, I get filled with an immense sense of pride when I see the end product.
"I hope this is just the start for each and every one of you, we've equipped you with the foundation skills but I encourage you now to continue learning, maintaining the hunger and desire you currently have to learn more.
"Welcome to GMFRS, I wish you a long career in this organisation."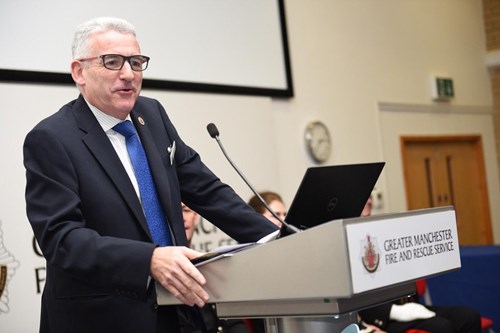 Congratulations to all the fantastic recruits. We hope you have a very happy and successful career at GMFRS.
Pictures can be found on our social media channels including Facebook, Twitter and Instagram
---
17/04/2019 15:04 PM