incident
Industrial unit fire - Croft Street, Hyde
6.30pm update
Later this evening, Greater Manchester Fire & Rescue Service (GMFRS) expects to leave the scene of yesterday's large fire on an industrial estate on Croft Street in Hyde.
Just two fire engines from Salford and Stockport stations remain on site, along with one aerial platform from Oldham. Firefighters are engaged in damping down areas of the scene that are still smoking but the incident is drawing to a close.
Station Manager Bob Birtles, in charge on the ground, said: "Crews have worked tremendously hard, operating in shifts all day here in Hyde. I am pleased to say there remain only small pockets of fire left to extinguish.
"Demolition of a significant part of the site is about to commence – a specialist demolition crew is on the scene and will use heavy machinery until late tonight. However, I am pleased to say that the swift actions of our firefighters succeeded in saving parts of some of the affected building, and firefighters have also successfully retrieved a large amount of stock from some of the premises affected."
Once demolition commences local people are warned that dust and smoke is likely to hang in the air, so people living nearby are encouraged to keep their homes' windows and doors closed as a precaution.
However, all neighbouring streets have reopened after having been closed by emergency services earlier in the day. GMFRS would like to thank colleagues from other emergency services, the local council and business owners for their assistance throughout this incident.
---
7am update
Just five fire engines and an aerial platform remain at the scene of a large fire at Adamson Industrial Estate on Croft Road in Hyde.
Crews have worked diligently through the night to extinguish the blaze which at its height consumed three large buildings over a 300m x 200m footprint.
Station Manager Chris Hanson, in charge at the scene, said: "I cannot praise our firefighters enough – operating in the middle of the night in dangerous conditions they systematically worked to extinguish the fire and I am pleased to say we are now on top of the situation. There are just a few hot spots remaining and the crews that are still here are engaged in damping down the scene to prevent flames from reigniting.
"This has not been an easy fire to tackle. Spread over quite a large area and involving brick buildings three storeys high in places, of great concern was the large amount of chemicals stored at the scene given the industrial nature of some of the business involved. The three buildings have each suffered considerable damage and have collapsed in places, and further demolition may be required later today. The cause of the fire remains unknown and an investigation will begin soon.
"Greater Manchester Fire & Rescue Service will remain here in Hyde for the rest of today and nearby road closures remain in place, as does the closure of the local railway line though we expect that to reopen soon.
"I want to thank local people for their support and co-operation through the night – given there is still smoke and ash in the air, please continue to keep the doors and windows of your homes closed until informed otherwise."
Firefighters from Bolton Central, Farnworth, Mossley, Sale and Wigan remain at the industrial estate. Local residents are requested to keep neighbouring roads clear of traffic to allow emergency service vehicles straightforward access. GMFRS would like to thank colleagues from Greater Manchester Police, North West Ambulance Service and Tameside Council for their support overnight.
---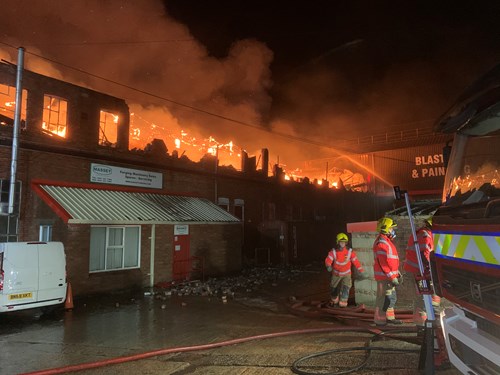 11pm update
Greater Manchester Fire & Rescue Service (GMFRS) continues to fight a large fire affecting Adamson Industrial Estate on Croft Road in Hyde.
In total, 15 fire engines are engaged with tackling the flames over an area that has grown in size to approximately 300m by 200m. The fire involves a range of buildings across the site, some of which are three storeys, and the roofs of several are well alight.
Incident commanders have divided the scene into four sectors to enable firefighters to make swift progress – hose reels, lances and three aerial platforms are enabling the fire to be fought both from ground level and from above.
A 200m exclusion zone has been placed around the industrial estate and colleagues from Tameside Council have closed the following streets:
Railway Street / Albert Street
Croft Street and Chapel Street, from the junction with Great Norbury Street heading westwards toward Adamson Industrial Estate
Alexandra Street, through to the junction with Woodend Lane
All neighbouring side roads
However, there are currently no plans to seek to evacuate local residents.
There is smoke in the immediate vicinity and Network Rail have halted trains services passing through Hyde Central railway station. However, at present smoke is not drifting towards the nearby M67 motorway.
People living in the vicinity are asked to keep the windows and doors of their homes closed until advised otherwise. Emergency services also request that local roads be kept clear of traffic to allow emergency vehicles easy access. GMFRS would like to than colleagues from Greater Manchester Police (GMP) for their assistance with both traffic management and maintaining the 200m cordon.
---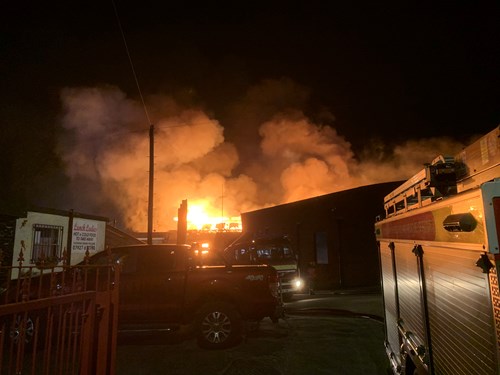 9pm update
Roughly 50 firefighters from 10 stations across Greater Manchester are battling a blaze at a large industrial unit on Croft Road in Hyde.
Greater Manchester Fire & Rescue Service (GMFRS) were called to reports of a fire at 8.29pm on Saturday 4 April and crews were quickly on the scene.
The blaze is affecting a large 100m by 50m brick building containing multiple business units. Firefighters from stations including Ashton, Gorton, Hyde, Stalybridge and Stockport, among others, are currently battling the flames using breathing apparatus, two jets and a lance. GMFRS has also deployed two aerial platforms to fight the fire from above.
Local residents are asked to remain indoors and keep windows and doors closed until emergency services can update. The public are also requested to keep nearby roads clear of traffic to allow swift access for emergency vehicles. An update will follow.
---
04/04/2020 21:24 PM