GMFRS
Greater Manchester fire crews rescue people and animals following heavy rainfall
FIRE crews from across Greater Manchester have dealt with a number of incidents as a result of yesterday's heavy rainfall (July 31).
Roughly 115 emergency calls for Greater Manchester, reporting incidents of flooding, were handled by staff members at North West Fire Control, up until 5am this morning (August 1).
The majority of incidents reported and dealt with by firefighters from Greater Manchester Fire and Rescue Service (GMFRS) were in the boroughs of Stockport, Salford and Trafford.
Most incidents involved domestic properties - where people needed leading to safety and where electrical supplies had been affected. There were also a number of incidents where people had become stranded in their vehicles due to the flood water.
Following the update shared by GMFRS yesterday afternoon our firefighters have dealt with a number of additional incidents, including:
4.05pm, Bridge Lane, Bramhall, Stockport – Firefighters assisted local businesses and residents with the rising water and helped to rescue 11 people and four dogs. Crew members remained in the area offering support and reassurance. See below photos from this incident.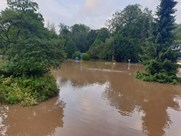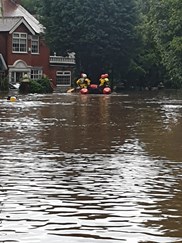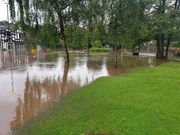 5pm, Bramhall roundabout (junction of Bridge Lane and Bramhall Lane South) – large scale flooding of roadway, housing and parkland. Seven people and two dogs rescued from properties by firefighters using boat from water incident unit. A number of other properties were assessed with people in adjacent first-floor properties able to stay put.
5.13pm, Valley Road, Stockport – Fire crews rescued a 13-year-old boy from fast flowing water at a nature reserve. He was helped to safety using rescue lines and an inflatable path.
5.52pm, Demmings Road, Cheadle, Stockport – two women and two dogs were rescued from a first-floor bedroom by firefighters using a ladder. Firefighters also isolated electrics within the property.
7.23pm, Queens Road, Cheadle Hulme, Stockport – two older people were rescued from their property and electrics isolated by firefighters.
GMFRS Assistant Chief Fire Officer Tony Hunter said: "Many of our fire crews and officers have worked tirelessly over the past 24 hours or so following the heavy rainfall, rescuing and reassuring the people of Greater Manchester. I thank them all for their continued hard work.
"Also thanks to our colleagues at North West Fire Control, who at times like this are even busier than usual dealing with emergency calls and giving advice, where they can, to keep our resources available for emergencies – such as when people need rescuing from flood water.
"We would like to remind people to take extra care when out and about in and around Greater Manchester, especially during bad weather. Never attempt to drive through flood water if you are unsure of its depth. And please, only call 999 in an emergency."
---
Article Published: 01/08/2019 11:39 AM