GMFRS CFO commendation
GMFRS firefighters and Hatzola recognised for their part in rescuing three children from house fire
Firefighters from Broughton fire station and Hatzola have been recognised with a commendation by Greater Manchester Fire and Rescue Service (GMFRS).
On Sunday 27 October 2019, four firefighters successfully rescued three children from an upstairs bedroom of a house in Salford. The rescue was supported through Hatzola, North West Ambulance Service (NWAS), Greater Manchester Police and local security patrols.
Within the first five minutes of crews arriving at the scene, firefighters pitched a ladder to the front bedroom of the house to lead the children to safety in case the fire could not be controlled downstairs. During this time, crews tackled the well-developed kitchen fire downstairs and then were able to rescue the three children from upstairs.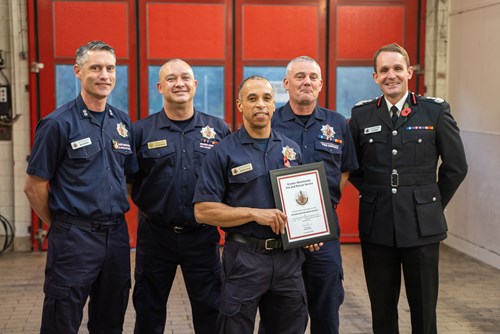 Staff from Hatzola gave medical attention to the children and quickly got them to hospital working alongside NWAS
Crews and members of Hatzola were presented with a certificate at Broughton Community Fire Station on Friday 11 November 2022 by GMFRS' Chief Fire Officer, Dave Russel.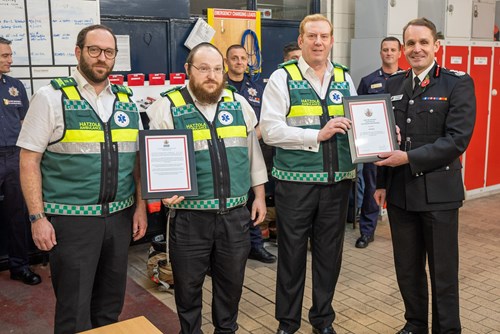 Chief Fire Officer Dave Russel said: "Through these different agencies working together, three children were rescued safely and quickly given any medical attention they needed.
"All those involved in attending this incident should be incredibly proud of their quick and effective response, and we are extremely grateful for their acts of service".
The multi-agency work between all those involved ensured the safety of the three children during their rescue and afterwards.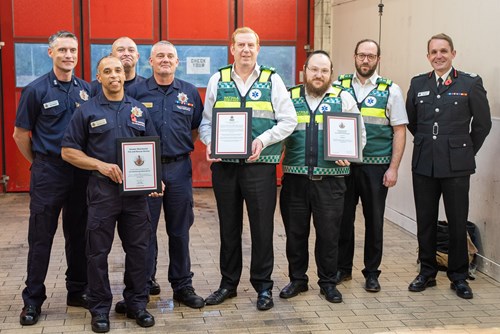 ---
21/11/2022 15:45 PM