GMFRS Apprenticeship
Firefighters awarded 'distinction' on completion of apprenticeships
FORTY SIX Greater Manchester firefighters have recently received their certificates following the completion of their two-year firefighter apprenticeship, with four passing with flying colours and achieving a 'distinction'.
A 'distinction' is an outstanding achievement which is attained by 3.8 per cent of Greater Manchester Fire and Rescue Service's (GMFRS) firefighters.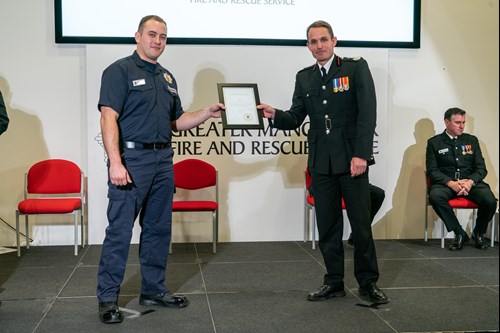 Tom Price receives his award from Chief Fire Officer Dave Russel
Ian Hamby, Jack Stuart, Oliver Cross, and Tom Price are the most recent recipients of the top award.
The Firefighter Apprenticeship End Point Assessment is assessed externally and is one of the most stringent assessment processes in the apprenticeship world, reflecting the importance of all the skills gained by our apprentice firefighters.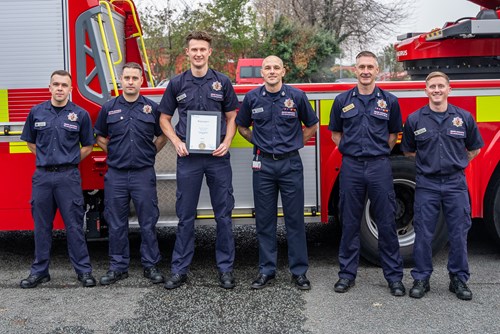 Oliver Cross with GMFRS colleagues
To gain an overall distinction, apprentice firefighters must achieve a distinction grade in three separate assessments covering practical, professional discussion and knowledge tests.
Firefighter Ian Hamby, on receiving his award, said:
"I would like to give my watch credit for all their work they put in to help me achieve my target, without their effort this achievement wouldn't have been possible."
The fab four follow in the footsteps of firefighters Andrew Matthews, Imran Patel, Alex Cole and Vogue Lucas, who achieved the highly acclaimed 'distinction' in 2020 and 2021.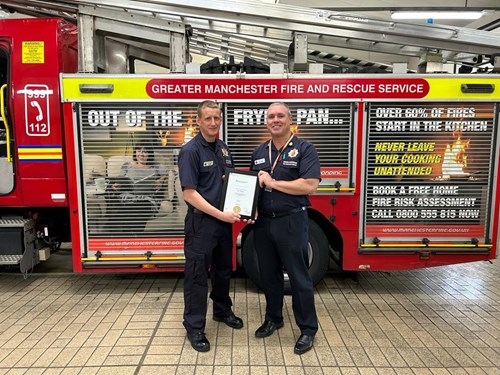 Ian Hamby receives his award from Assistant Chief Fire Officer Leon Parkes
After joining GMFRS as apprentice firefighters and completing their apprenticeships, Ian is now based at Agecroft Community Fire Station with Jack based in Altrincham. Oliver is working at Manchester Central Community Fire Station, and Thomas is at Whitehill in Stockport.
During their time with our service, they have all demonstrated dedication and commitment while securing the knowledge and tools to become competent firefighters serving the people of Greater Manchester.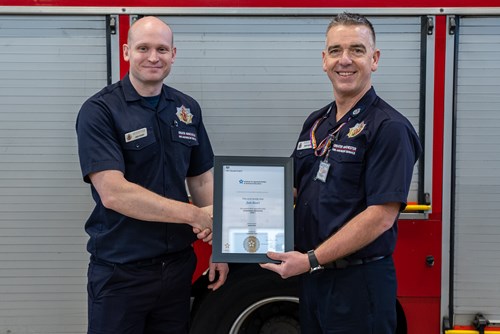 Jack Stuart receives his award from Assistant Chief Fire Officer Barry Moore
Members of the executive board have been visiting the firefighters presenting them with their distinctions and congratulating them on their achievements.
Assistant Chief Fire Officer at Greater Manchester Fire and Rescue Service, Leon Parkes, said:
"I was delighted to present Ian with his certificate of distinction on completing his two-year apprenticeship with us – this is an outstanding achievement.
"It is an honour that all the firefighters who receive a distinction should be very proud of, it is not easy to achieve, they have been recognised for their excellent work ethic and willingness to go above and beyond which exemplifies the core ethics of our dedicated firefighters.
"I wish them well as they start out their fire service journey with us, protecting and serving the people of Greater Manchester."
If you're interested in a career with us, please visit manchesterfire.gov.uk/join-us.
---
29/03/2023 10:41 AM