New for summer 2020 we have a developed a water safety campaign working with family members who have lost loved ones to accidental drowning.
Find out more about the campaign that launched on Monday, July 27, 2020.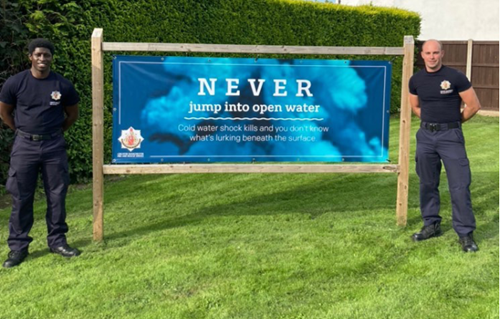 Cheadle Community Fire Station - Firefighter Parris and Firefighter Howard with new campaign banner
When you are out and about around water you can help to stay safe by:
Never jump into or swim in open water - Cold Water Shock can kill in 60 seconds and you never know what's lurking beneath the surface (if there's no lifeguard then don't swim)
Letting someone know where you are going and when you are coming back, if possible
Taking any warning or safety signs seriously
Looking out for hazards around water and sticking to proper pathways
Never entering the water to rescue your dog - who will rescue you?
Looking for activities to occupy and educate children on water safety?
Water safety game (recommended for children aged 5-8) – can you spot the hazards in the game below? (Game opens in a new window)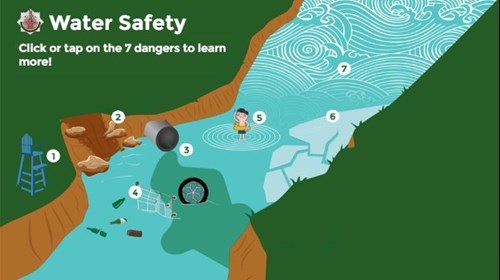 What are the dangers of open water?
There is no supervision by lifeguards to help you if get into trouble
The water is often a lot colder than you expect and it can impact on your physical capabilities. Just because you can swim well in a warm watered pool doesn't mean you'll be able to swim well in cold water. Cold water shock can kill
It can be deep and it's difficult to estimate the depth before you get in
You may jump in but can you get out? Often people can't find a suitable place to get out of the water due to steep slimy banks or sides
There is no way of knowing what lies beneath the surface of the water. There could be shopping trolleys, opened tin cans or broken bottles
If it's polluted, it could make you ill
There may be hidden currents
Never drink alcohol during or just before swimming or while carrying out activities such as boating or water skiing
If you're going to go swimming, make sure that somebody is nearby so you can shout for help if you get into difficulties
To help reinforce our safety messages around open water in 2019 we worked closely with the loved ones of two teenage boys from Bolton - Jason Varghese (15) and his older cousin Joel Aniyankunj (19) - who drowned while on holiday in August 2018.
Following on from the tragic accident Jason's and Joel's loved ones are urging young people not to swim in open water – both at home and on holiday – while also reaching out to parents to raise awareness and save others the heartache they have experienced.
You can read more about this here and watch a video below which includes Suby (Jason's mum and Joel's auntie), Jason's headteacher, Tania Lewyckji, and two of his best friends - Robbie Woodcock and Sam Gibbons.
What about swimming at the beach?
When you are swimming at a beach, be aware of which flag is flying as this will warn you of any dangers.
See below images of flags, and this is what you should look for:
Red and yellow flags - lifeguards on patrol
Red flags - it's dangerous to bathe or swim so don't go into the water
Quartered black and white flags - the area has been zoned for surf crafts and Malibu boards. It's not safe for swimmers and bather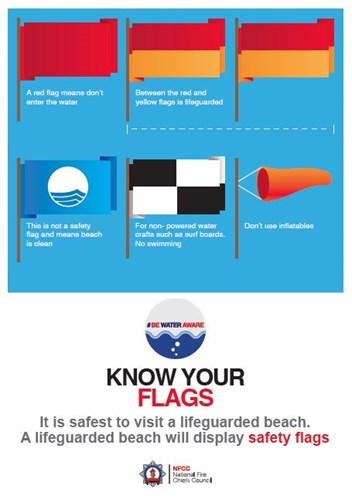 Children should always go to the beach with an adult. An adult can point out dangers or help if somebody gets into trouble.
What should I do if I spot an emergency?
If you see someone in difficulty in the water, tell somebody, preferably a lifeguard if there is one nearby. Alternatively use your mobile or go to the nearest telephone and dial 999, ask for the Fire Service at inland water sites and the Coastguard at the beach.
For more information about water safety visit The Royal Society for the Prevention of Accidents' website at http://www.rospa.com/.
Canal safety advice
Always plan your journey home at the start of the night
Don't walk alone along canals at night time, or after drinking alcohol
Manchester Water Safety Partnership
The Manchester Water Safety Partnership was formed in 2015 in response to several deaths in central Manchester waterways.  The group is made up of representatives from Canal & River Trust, CityCo, Manchester City Council, Greater Manchester Fire and Rescue, Greater Manchester Police, Royal National Lifeboat Institution and the Royal Life Saving Society UK, working together to help make Manchester's waterways safer, with a key focus on the city centre.
For more information go to: http://manchesterwatersafety.com/about