Electrical equipment
Fires in the home can be caused by faulty electrical appliances, plugs and cables that are old or poorly wired can be a real danger.
Just because there's no flame, doesn't mean there's no fire risk.
Find out what to check for to ensure your appliances don't put you or your family or housemates at risk from fire.
What to check for...
There are particular danger signs to look out for on all electrical items you have around your home. If you think something needs fixing or changing, do it straight away. 
You can access the Electrical Safety Council's Socket Overload Calculator (Link opens in new window) to check if you are overloading your sockets and putting your home at risk of fire.
You can also register your appliance with the Association of Manufacturers of Domestic Appliances (Link opens in new window) for a safer home. For further information, click here. (Link opens in new window)
Tumble dryer and washing machine safety advice
Tumble dryers have been around for a long time, and used safely they can be a useful addition to your household.  
However, if fluff is allowed to accumulate in the filter, near blocked vents, and at the rear of your dryer you increase the risk of this fluff catching fire from the heat created by the dryer.
To stay safe we recommend you follow the below points:
Lint is removed after every load of clothes is dried.
You do not cover the vent or any other opening.
You sweep or vacuum the areas around the dryer regularly to prevent fluff build up.
Do not use tumble dryers while sleeping or away from home.
We would also like to also remind you that there has recently been two types of tumble dryers manufactured by Hotpoint, Indesit and Creda between April 2004 and September 2015, that have been recalled due to fears that excess fluff may come into contact with the heating element and catch fire. 
If you have bought a Hotpoint, Indesit, Creda, Swan and Proline tumble dryer between April 2004 and September 2015 we advise you to read the information. (Link opens new window).
If you have an appliance that has been recalled we advise you to stop using it until it has been inspected and declared safe to use by a manufacturer's engineer.
April 29, 2020 - Whirlpool washing machine recall  - Find out more about this here on the NFCC website (Link opens new window).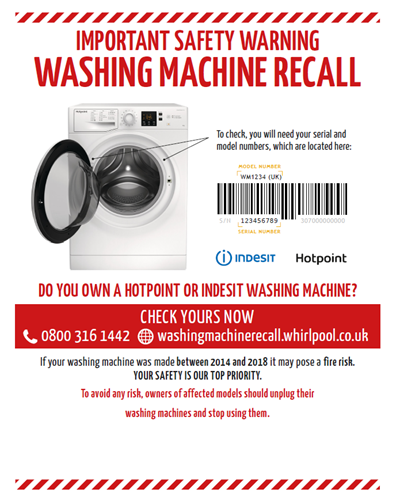 For a safer home you can Register My Appliance (Link opens in new window).  Be the first to know of any safety, repairs or recalls. 
Portable Heaters
Do not sit too close to fires and heaters - your clothing or hair could catch fire
Fireguards are recommended, particularly in homes with open fires or where there are children or pets
Make sure that fires are out or switched off before going to bed or leaving the property
Keep heaters clear from curtains and furniture (at least 3ft)
Plugs and sockets
For plugs and sockets, look out for the following:
hot plugs or sockets, scorch marks, fuses that often blow, or flickering lights - they are all signs of loose wiring or other electrical problems
badly wired plugs - any coloured wires sticking out could come loose and debris could also get into the plug
overloaded sockets - plugging too many electrical appliances into one socket can lead to overheating
Cables and leads
The risks with cables and leads include:
getting frayed and damaged - make sure the outer covering of all power leads is in good condition and replace if necessary
being badly positioned  - they shouldn't be anywhere that they could be tripped over, or near water, cookers or other sources of heat
running them under rugs or carpets where they can wear through without anyone noticing - position them elsewhere
Appliances
For electrical appliances, you should never:
get them wet - this includes plugs and sockets, so don't put a vase of flowers on top of the TV, for example
leave them on at night - unless they are designed to be left on, like freezers
put anything in the microwave that is made of metal, or has a metallic finish or parts
See 'Electric blankets and heaters - safe use' for more information about using these items safely.
Keep electrical items in good working order
Follow the guidelines below to make sure your electrical items are safe to use.
Maintenance
Electrical appliances, especially ones that run at high speeds and contain motors, like washing machines, should be serviced once a year by a qualified electrician.
Plugs, sockets and cables
Plugs, sockets and cables also need to be used correctly, you should:
make sure you can't see any coloured wires between the plug and the power lead - change the plug properly
make sure the wires are held firmly in place inside the plug
use sockets safely - it's better to use a bar adaptor (multi board) on a lead than a block adaptor
only use one adaptor per socket - don't plug one adaptor into another and try to keep to one plug per socket
Calculate whether your sockets are overloaded via the Electrical Safety First website (Link opens new window). 
Fuses
The fuse in a plug is a safety device designed to protect the lead rather than the appliance. It is a deliberate weak link in a circuit, which will blow if an electrical appliance or extension lead draws too much current due to either an overload or a fault.
The blown fuse cuts off the electricity to stop the lead and appliance from overheating and causing a fire.
Appliances meeting the relevant product safety standards will always be fitted with a plug, which has a correctly-rated fuse.
If you have to replace a fuse because it has blown, you must check why the fuse has blown correct the fault in the appliance and then replace the fuse with a new fuse of the same rating.
As a rule of thumb, fuses are rated according to the power rating of the appliance.
Plugs for appliances rated up to about 700 watts should have a 3 amp fuse, which is coloured red.
Plugs for appliances rated between about 700 watts and 3000 watts - the maximum rating of a wall socket- should be fitted with a 13 amp fuse, which is coloured brown.
Occasionally older appliances were fitted with 5 amp fuses which are coloured black. These fuses are still available to buy.
Dealing with an electrical fire
If there is an electrical fire, pull the plug out, or switch off the power at the fuse box - if it is safe to do so. Sometimes this can stop the fire immediately.
Never use water on an electrical fire, and don't take any risks with your safety - get out, stay out and call 999.