GMFRS
Thousands of young drivers safer on the roads
Thousands of young people across Greater Manchester are being helped to keep safe on the road when they pass their driving test thanks to Glovebox Guide.  
Greater Manchester Fire and Rescue Service (GMFRS) ensures that everyone under the age of 25 is provided with a Glovebox Guides on the day they pass their practical driving test.
The guide contains lots of useful tips and information on road safety. It also gives young drivers the chance to win an iPad Mini by taking part in an short survey.
The guides first started being given out to new drivers in Greater Manchester in 2013 and around 24,000 are handed out every year across the 11 driving test centres in the city-region.
Area Manager Paul Fearnhead, Head of Prevention at GMFRS, said: "While getting your driving licence is one of the most exciting achievements for a young person, it also brings with it huge responsibilities. Young people are more likely to be involved in an accident than anyone else and it is important they keep themselves and their passengers safe.
"The Glovebox Guide is just one way young people in Greater Manchester can learn about being safe on the road whilst also enjoying the freedom of driving, and hope they all take the chance to pick it up and read it."
Nikitta Thacker, 22, from Bury, passed her test in November 2019 and filled in the survey after receiving her own copy of the Glovebox Guide, before later finding out she had won the iPad Mini.
She found the sections on car maintenance and motorway driving particularly useful.
Nikitta said: "As a new driver the thought of driving on a motorway was really daunting, but the motorway driving tips in the Glovebox Guide were really helpful and practical and by taking them on board I felt more confident when I first drove on the motorway."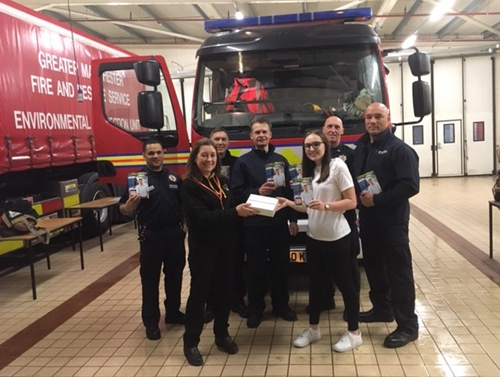 GMFRS firefighters from Green Watch Bury, GMFRS Road Safety Co-ordinator Lesley Allen, and Nikitta Thacker


GMFRS Road Safety Co-ordinator, Lesley Allen, said: "I urge every new young driver to take the time to read the Glovebox Guide. The guide is there to help you enjoy a long and safe driving career, as passing your test is the start of a new journey as you continue to develop skills and experience.
"GMFRS still sees too many devastating incidents involving young drivers and their passengers, and we hope that by new drivers taking on the carefully thought out advice within the guide we will help prevent some of these tragic incidents.
"Thank you to Safer Roads Greater Manchester for their continued funding for these essential guides and to the Driver and Vehicle Standards Agency for their support in giving them out to new young drivers."
If you are a young person planning to take your driving test in Greater Manchester during 2020 you will also receive your own Glovebox Guide and the opportunity to enter our next competition to win an IPad mini.
---
Article Published: 27/01/2020 15:30 PM