Stockport Estates survey
Plans for new Stockport fire station revealed as public consultation opens
Stockport Community Fire Station redevelopment plans unveiled as part of £38m investment across Greater Manchester Fire and Rescue Service (GMFRS) estate
State-of-the-art station will offer modern facilities with lower carbon emissions
Public consultation on plans opens today, with drop-in session to be held on 13 June
Consultation closes 20 June – visit www.gmconsult.org to find out more and have your say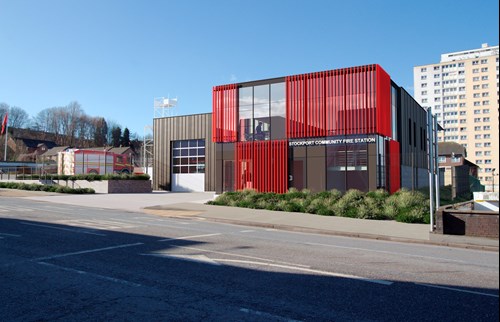 NEW PLANS unveiled today would see Stockport residents benefit from a brand new community fire station, thanks to a £38m investment programme across the Greater Manchester Fire and Rescue Service (GMFRS) estate.
Proposals for the new station, which would be built on the King Street West site currently occupied by GMFRS, will soon be submitted to the Stockport planning team.
The new station will support crews to carry out their work serving communities across the borough by offering improved, state-of-the-art facilities. These will include sustainable heating and lighting systems, helping Greater Manchester to decarbonise public buildings and achieve the goal of becoming carbon neutral by 2038, and a dual-purpose community room and operational training room.
The new station will uphold the same level of service to local communities in Stockport, and the amount of fire engines and response times to emergencies will also be maintained at current levels.
The plans have been developed in conjunction with local partners and are part of Greater Manchester's £38m Estates Strategy, which sets out a vision for upgrading and redeveloping a number of stations across the city-region to ensure they remain fit for purpose and enable GMFRS to provide the best possible service to residents.
Leaflets are being delivered to local residents with information about the plans, and on Tuesday 13 June a drop-in session will be held at the fire station for residents and stakeholders to find out more.
The consultation will close on Tuesday 20 June, and people can have their say on the plans by visiting www.gmconsult.org.
Deputy Mayor of Greater Manchester Kate Green said:
"People across Greater Manchester deserve the very best service that our firefighters can deliver, and these plans are all about giving them the facilities and the resources to get on with the job of protecting communities in Stockport.
"Our £38m Estates Strategy outlines how we're investing in new stations to modernise our operations across the city-region and deliver additional benefits, like cutting carbon emissions and offering new spaces for community engagement and training."
Chief Fire Officer Dave Russel said:
"This is a chance for residents and businesses in Stockport to tell us their priorities for the future of their community fire station.
"Every day our firefighters go to work right in the heart of the communities that we serve, so we have a responsibility to ensure that those facilities are of the highest quality, and support crews to respond rapidly and professionally to a wide variety of incidents.
"We had really positive engagement from local communities in Blackley and Whitefield when we outlined the first phase of fire station rebuilds in our redevelopment programme, and their feedback has helped shape plans in those places. I would encourage anyone in Stockport to get involved and tell us what you want to see from this major investment in our capabilities."
The GMFRS Estates Strategy is being carried out over four phases, beginning with the redevelopment of Blackley and Whitefield fire stations. Proposals for Blackley fire station have now been submitted, and a decision is expected over the summer.
Following community engagement and feedback in Whitefield, plans for the fire station rebuild were amended to take on board comments from local residents. The draft plans have now been submitted to the local authority to be considered as part of their planning process, and a final decision is expected over the summer.
Heywood and Whitehill stations will be next in line after the redevelopment of Stockport fire station, with plans set to be laid out in early 2024.
For more information, visit the GMFRS website: Station new builds - Greater Manchester Fire Rescue Service.
For further information please contact the Communications and Engagement team on: news@greatermanchester-ca.gov.uk.
Find us on social media @manchesterfire.
---
Article Published: 30/05/2023 12:41 PM