Fire recruit Charity GMFRS
Newest Recruits Celebrate Final Passing Out Parade Of 2019
Today, 34 TRAINEE firefighters celebrated their successes at the latest, and final, Passing Out Parade of 2019 (Thursday, December 19), following an intensive 17-week operational training course.
Dignitaries, families and trainers gathered at the Training and Development Centre to celebrate the recruits' achievements and to welcome them to the Service.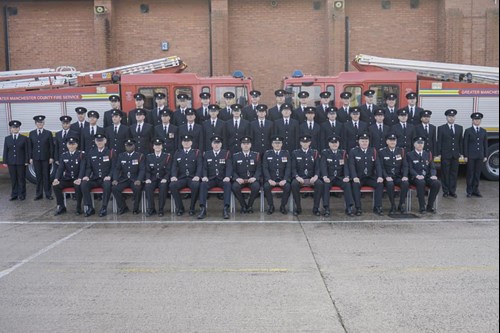 At the event, the apprentice firefighters gave their families insight into how we use the latest technology to save lives by demonstrating a variety scenarios on the training yard, including; extinguishing fires, rescue of a person and CPR.
Following the demonstration, all of the firefighters were presented with a certificate from the Vice Lord-Lieutenant, Mr Paul Griffiths, to mark the end of their operational training.
Four stand-out firefighters on the course were selected and presented with the following individual awards from the Vice Lord-Lieutenant, Mr Paul Griffiths; GMFRS Chief Fire Officer, Jim Wallace; Deputy Chief Fire Officer, Dawn Docx; and Assistant Chief Fire Officer, Leon Parkes.
Endeavour award – Ian Hamby
Academic award – Jack Baker
Fitness award – Tom Snowden
Silver Axe award – Robert McPhee
During their training, the latest recruits took part in a charity event in a bid to raise money for two charity foundations. On December 7, the trainee firefighters took on the challenge of a 10km walk around Manchester City Centre, wearing full breathing apparatus.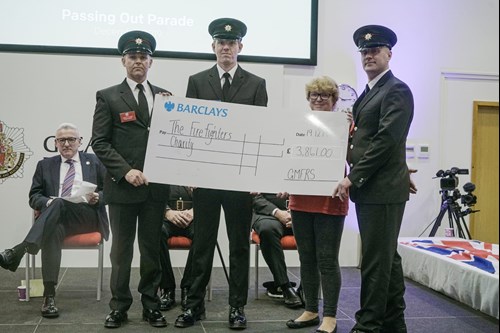 hey raised an incredible, and historic, £4,861 which is being shared between The Fire Fighters Charity and Operation Florian. A cheque was presented to The Fire Fighters Charity at the celebration event.
Closing the ceremony, Chief Fire Officer Jim Wallace said: "You have demonstrated over the 17 weeks that you are up for the challenge, can meet expectation and you will be a proud, fantastic asset to this organisation."
"I think it's a no small part in getting here over the period of time, is the support you have received from those around you. Thank you to all those who supported them through this process."
"It doesn't stop here, it starts here, we will do as much as we possibly can to support you in your journey."
The recruit firefighters have now completed the first part of a nationally developed apprenticeship standard course. All of our apprentice firefighters undertake the two year programme to help them gain the essential knowledge, skills and behaviours that will enable them to become a competent, modern-day firefighter.
We'd like to wish our congratulations to the recruits who will now be posted to community fire stations across Greater Manchester where their apprenticeship training will continue until they become fully qualified firefighters.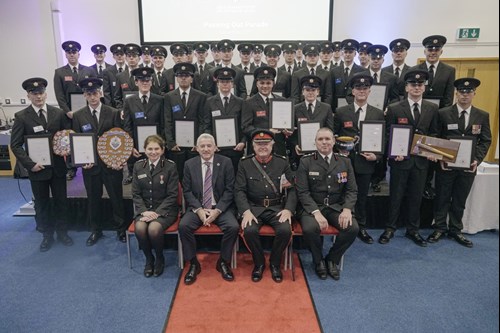 ---
19/12/2019 19:07 PM