GMFRS awards
National award scoop for fire prevention and protection work
Greater Manchester Fire and Rescue Service (GMFRS) has seen two members of staff and the entire Protection Team recognised for their outstanding contributions to building and fire safety at the National Fire Chiefs Council (NFCC) Prevention and Protection Awards 2023.
At an awards ceremony in Derby on Tuesday 14 November, Adam Postlethwaite, Protection Training and Development Manager, won the 'Outstanding Contribution Award' in the Protection category for his work developing fire safety regulators at a service, regional and national level. Adam has also been instrumental in supporting businesses across the city-region to comply with the Fire Safety Order.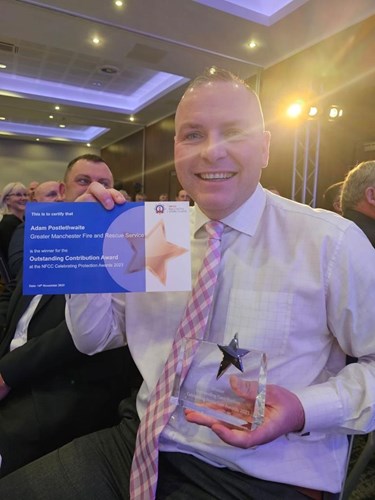 Adam Postlethwaite holding up his certificate and trophy at the awards ceremony 
Sarah Hardman, Prevention Development Officer, was a joint winner in the Prevention category following her achievements in the field of Home Safety, including the development and implementation of the Home Fire Safety Assessment which helps at-risk residents receive free fire safety advice and equipment.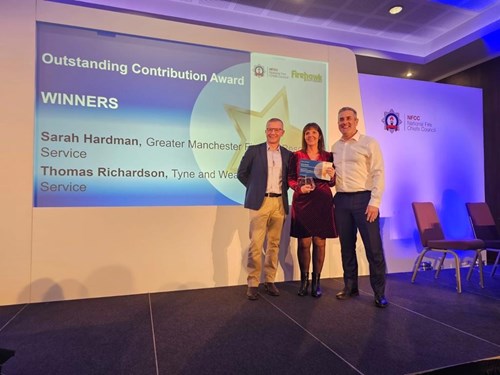 Sarah Hardman and Thomas Richardson receiving their award on stage
Our Protection Team also scooped the 'Team Award' at the annual event for their incredible work across our city-region in relation to building and business safety. The team has also been a leading voice nationally for the fire safety training and development of fire safety regulators, firefighters and incident commanders. 
Sue Abbott, who has supported GMFRS as a volunteer for more than five years, was nominated for the 'Volunteering' award.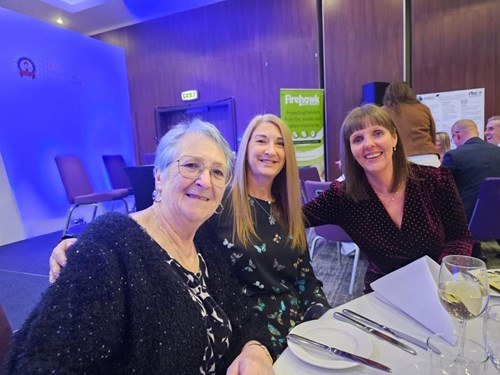 Sue Abbott, Wendy Richings (Volunteer Manager) and Sarah Hardman at the awards ceremony
Dave Russel, Chief Fire Officer at GMFRS, said:
"I'm thrilled that Adam, Sarah, Sue and our Protection Team have been recognised for their dedication and contributions to our service.
"I'm incredibly proud of all of our teams; their role in keeping the communities of Greater Manchester safe cannot be underestimated."
Deputy Mayor for Police, Crime, Criminal Justice and Fire, Kate Green, said:
"It's excellent to see GMFRS staff rewarded on both an individual and team level for their hard work in relation to building and fire safety.
"These awards are national recognition of the fact that, thanks to this work, GMFRS is in the best possible place to respond to the city-region's ever-changing risks."   
Staff and teams from across our service have also been nominated in nine categories at the Excellence in Fire and Emergency Awards 2023 – more than any other service in the country.
The winners will be announced at a ceremony in Westminster on 1 December.
---
Article Published: 16/11/2023 15:08 PM