Fire
Mill fire, Delph - Tuesday 30 April
10.30am update
FIREFIGHTERS at Oakdale Mill in Delph have started scaling back their firefighting operation.
Four pumps remain at the scene, along with an aerial appliance and command support unit as crew continue to tackle the last remaining pockets of fire. Firefighters are also working with nearby businesses to ensure they can return to work as soon as possible.
Residents have begun returning to their homes with help from Oldham Council but road closures do remain in places as a vast amount of hose reel and hydrants are still in use.
Fire investigation officers have been at the scene this morning but at this time there is no indication that the blaze was started deliberately.
Group Manager Mark Threader praised his firefighters and partners who have worked tirelessly through the early hours and into today.
"Firefighters have worked incredibly hard to bring this fire under control and will remain at the scene into the evening and probably overnight as they continue to damp down." Said Mark.
"I would like to thank our partners from GMP, NWAS and Oldham Council who have assisted us at this incident. It has been a huge joint effort to contain this fire and ensure it didn't spread to neighbouring properties."
---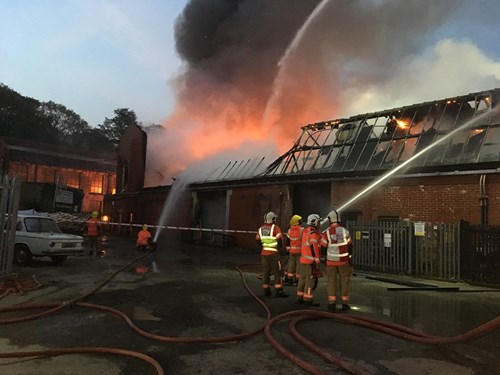 5.30am update
Crews from six Greater Manchester fire stations remain at the scene of a mill fire in Delph, Oldham.
Crews were called just after 3am to reports of a large fire at Oakdale Mill and quickly established cordons plus a local road closure to aid with the firefighting.
Speaking from the Command Support Unit on the ground, Station Manager Bob Birtles said: "We have been fighting this fire for over two hours now and we are making good progress and limiting the spread of the flames, and that's thanks to the quick and professional actions of our crews.
"However, there is a lot of billowing smoke in the immediate area. Colleagues from Greater Manchester Police have, as a precaution, evacuated residents from 10 nearby homes to a local community centre. I'd ask people living or travelling locally to keep their doors and windows closed for the time being.
"Delph New Road is currently closed. Please help us to firefight as quickly and efficiently as possible by keeping the immediate vicinity clear."
_______________________________________________________________
Greater Manchester Fire and Rescue Service are battling a blaze affecting a mill building in Delph, Oldham.
Six crews plus specialist appliances are using five jets and a hose-laying lorry at the scene on Delph New Road, after GMFRS were called just before 3.15am.
Thirty firefighters from Oldham, Hollins, Chadderton, Ashton, Stalybridge and Mossley stations are engaged in extinguishing flames that have covered the entirety of the roof area, measuring roughly 70m by 30m.
The Fire and Rescue Service has the scene under control but will be on site into the morning.
---
30/04/2019 05:17 AM