GMFRS
Local chef cooks up a treat for Greater Manchester firefighters
THIS February Greater Manchester Fire and Rescue Service (GMFRS) is urging members of the public to stay safe in the kitchen in support of a national cooking campaign, headed up by the National Fire Chiefs Council.
On Friday, February 1, 2019, firefighters who work at Heywood Community Fire Station were joined by chef Adam Reid, of The French restaurant in Manchester, and ITV Presenter Vicky Grimes to cook up a healthy tea - which was Adam's take on chicken chow mein.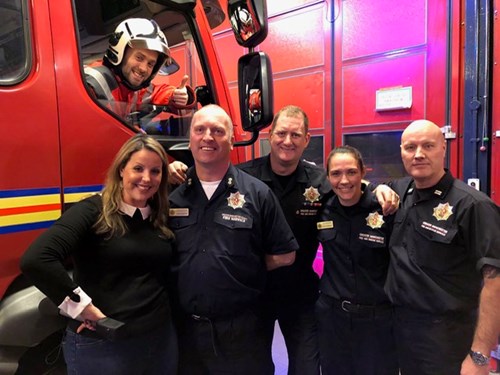 Chef Adam Reid with ITV presenter Vicky Grimes, Watch Manager Mark Bamford, Firefighter Pete Griffiths, Firefighter Kate Lonsdale and Crew Manager Dave Dodson
Firefighters took the opportunity to remind people how to stay safe when cooking and avoid fires at home on ITV's Friday Night Fake-Away show, part of Granada Reports, which aims to help keep people healthy by cooking instead of eating take-away food.
Head of Prevention, Paul Etches said: "Every year GMFRS receives calls to around 1,300 kitchen fires. Since April 2018 our firefighters have already dealt with more than 1,000 kitchen fires – 85 per cent of these were cooking related which equates to around 890.
"Many cooking fires start when people get distracted – whether this be general distractions around the home, or falling asleep – sometimes after taking medication or drinking alcohol.
"We want to remind people to take extra care to avoid having a fire and also of the importance of having working smoke alarms and an escape plan – which can buy you valuable time should you have a fire at home.
"Often the damage caused by kitchen fires is so severe that it results in people requiring seeking alternative accommodation."
To help prevent the increase of kitchen fires GMFRS is encouraging people to follow its safety advice and book a FREE Safe and Well Visit, which may include the fitting of smoke alarms, by calling 0800 555 815.
Safety tips to follow to keep you and your family safe at home:
Never cook after drinking
Always stand by your pan – don't leave your cooking unattended
Keep your oven, hob and grill clean – fat and grease can easily catch fire
Don't put metal objects, like tin cans, in the microwave
Keep toasters clean and away from curtains and kitchen rolls
If your kitchen does catch fire:
Don't panic and don't take risks
If it's safe to do so, turn off the heat but don't lean over the pan
Never use water or a water extinguisher on a hot fat fire
Leave the kitchen, close the door, tell everyone else to get out and don't go back in
Call 999
---
Article Published: 04/02/2019 13:00 PM