GMFRS
Littleborough firefighters running for charities
A GROUP of firefighters from Greater Manchester Fire and Rescue Service (GMFRS) have started a year-long fundraising event to help three amazing charities.
The Fire Fighters Charity, Operation Florian and Children in Need will all benefit thanks to the team of firefighters based at Littleborough Community Fire Station – who on Wednesday, November 18, 2020, pounded the local pavements to complete their first mile-long run as part of '365 for 999'.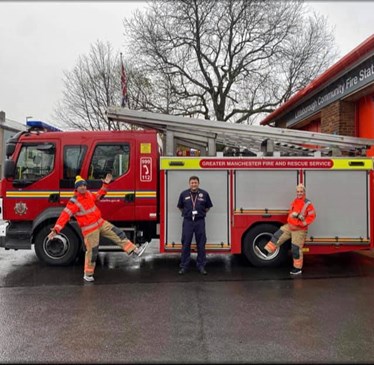 Littleborough firefighters get ready for their first run on 18.11.20
l-r Firefighter Rob Chew, Watch Manager Paul Rourke and Firefighter Jo Musgrave
The crew will run the same route - while following social distancing and COVID-19 guidelines - around Littleborough every day for the coming 12 months and will be joined by different colleagues from GMFRS, including senior leaders.
GMFRS' Group Manager Val Hussain, who is the borough manager for Bury, Oldham and Rochdale, said: "I want to thank the team of firefighters in Littleborough who have planned the charity event to boost funds for three superb charities close to all of our hearts.
"Myself and other leaders from across the organisation fully support the firefighters and we look forward to getting involved and running the mile long route to contribute to the fundraising activity."
You can show your support by donating:  https://www.justgiving.com/crowdfunding/littleborough365 or by sharing the link with your friends or on your social media platforms.
---
19/11/2020 11:38 AM