GMFRS
Greater Manchester's volunteering stars of 2020
GREATER Manchester Combined Authority (GMCA) and Greater Manchester Fire and Rescue Service (GMFRS) has dedicated teams of volunteers who help daily by carrying out various roles – each one making a huge difference to Greater Manchester and the people who live here.
Since GMFRS' volunteering programme launched in 2008, more than 300,000 hours have been donated by volunteers, carrying out various roles including wildfire and water safety volunteers and supporting community safety activities.
From March 2019 up until the pandemic hitting, more than 18,000 hours were given by GMFRS' 200-strong team of active volunteers.
Since April, the amount of people helping out on behalf of GMFRS has been boosted by retired staff members and serving colleagues joining official volunteers to carry out different duties and increase capacity while supporting Greater Manchester's fight against COVID-19.
Their contributions included contact tracing, supporting councils at Test and Trace sites, welfare checks, decontaminating vehicles, PPE distribution, mutual aid and mortuary assistance.
Volunteers and staff members helped to assemble Creative Care Kits for young people over the summer at Salford University as part of an initiative led by GMCA's culture team. This resulted in more than 20,000 local young people - who may have been feeling more isolated and lonely - receiving a pack to complete at home. The success of this initiative was replicated, providing 16,000 kits for older people, with a second edition Creative Care Kit for young people being shared in October.
GMFRS volunteers supported Wigan Council's Test and Trace facility in Chapel Lane between August to November – during which time around 650 hours of marshalling support was donated. Almost 400 of these were contributed by retired staff member Gary Higson and volunteer Chaplain Sue Abbott.
Wigan Council has recognised the contribution of volunteers with a letter sent to GMFRS to express thanks to all those who helped at the Test and Trace site.
Approximately 7,700 hours of support has been contributed by GMFRS' volunteers, retired members, and staff carrying out alternative duties, from April to November 2020.
GMCA's Independent Custodial Visitors (ICVs) is a well-established scheme and is run by GMCA's Police, Crime, Criminal Justice and Fire Team, and is a statutory responsibility of every Police and Crime Commissioner's office in the UK.
Greater Manchester's 15-strong team of ICV volunteers undertake hundreds of inspections of police custody suites to check on the treatment of detainees and the conditions in which they are held and that their rights and entitlements are being observed. It offers protections and confidentiality to detainees and the police and reassurance to the community at large.
The pandemic resulted in a new system being developed jointly with Greater Manchester Police by the way of 'visits' being undertaken by telephone, with extra measures – such as PPE and signage – being put in place.
From March to August 2020, 143 telephone 'visits' were completed in place of traditional visits and was well received by the police and detainees alike.
GMCA Chief Executive Eamonn Boylan, said: "Our volunteers across the whole organisation are just fantastic, and without their dedication and hard work we wouldn't be able to do as much as we do now in the community – especially in light of the pandemic.
"This year has been like no other but that hasn't stopped our dedicated volunteers from going above and beyond and getting stuck in where we have needed them to – from helping with 'test and trace' duties to making up creative care kits for young people who may not have had access to digital resources.
"We have even had retired fire service members helping out and the Service's staff members carrying out alternatives duties as we all work together and do our bit to get through the pandemic together. Every single person who has contributed their time during the pandemic should be proud of themselves. Thank you on behalf of the whole organisation and the people of Greater Manchester."
Photos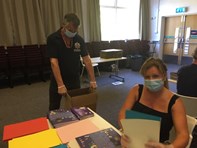 GMFRS volunteers and staff put together Creative Care Kits for young people in Greater Manchester - Steve Collier and Debbie Steels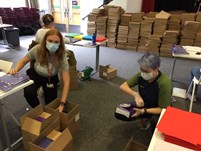 GMFRS volunteers and staff put together Creative Care Kits for young people in Greater Manchester - Rebecca Sutherland and Charlie Restall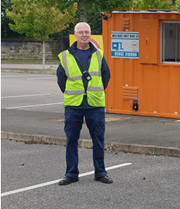 GMFRS retired member Gary Higson - Wigan testing site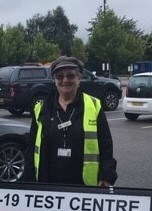 GMFRS volunteer Sue Abbott - Wigan testing site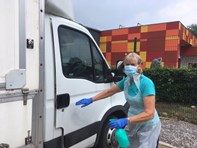 GMFRS Volunteer Julie Keenan decontaminating vehicles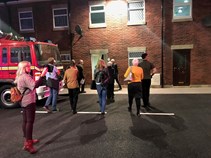 GMCA ICV volunteers have a tour of GMFRS' Training and Safety centre in Bury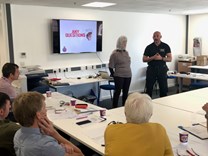 GMCA ICV volunteers have 'spit-guards' demonstration from Greater Manchester Police (pre pandemic)
---
04/12/2020 14:51 PM