GMFRS
Greater Manchester Fire and Rescue Service volunteer celebrates 85th birthday at open day
Keith Dunkerley (or 'Dunk' as everyone knows him) has been a volunteer for Greater Manchester Fire and Rescue Service (GMFRS) for nearly 13 years and is firmly part of our fire family. So, of course he chose to spend his 85th birthday supporting the Oldham Fire Station open day event.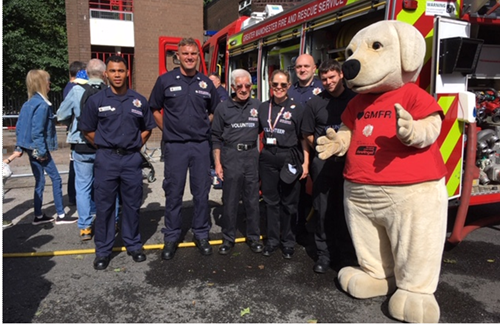 Dunk has given his free time and contributed nearly 3000 hours of support to GMFRS and it's communities. During Dunk's years as volunteer he has supported a number of different activities. Including: operational training as a live casualty, community engagement to help prevent fires and promote home fire safety checks, The Fire Fighter Charity car washes and delivering welfare support for crews during the moorland fires.
Dunk said "I enjoy the company, meeting people and the public. It keeps me active, occupied and I feel fulfilled. I have some very memorable experiences, especially as road traffic collision casualty (during training exercises). But my most memorable event was at Hollingworth Lake, I was part of a joint emergency service exercise, where I was airlifted off the moors in a helicopter".
Wendy Richings (Volunteer Manager) said; "Dunk is an amazing volunteer and is very much part of the team. His commitment is highly commendable, his contribution to supporting GMFRS and it's communities is very much appreciated. His participation also demonstrates the benefits of volunteering to an individual's own well-being."
To join 'Dunk' as a volunteer and find out moor about volunteering please visit the GMFRS website
Or you can register your interest by emailing your details to: volunteerco-ordinators@manchesterfire.gov.uk
---
21/08/2022 11:57 AM