GMFRS
Gorton firefighters raising funds for local Youth Zone
A group of firefighters from Greater Manchester Fire and Rescue Service (GMFRS) are training for a gruelling charity event on September 17 and 18, 2020.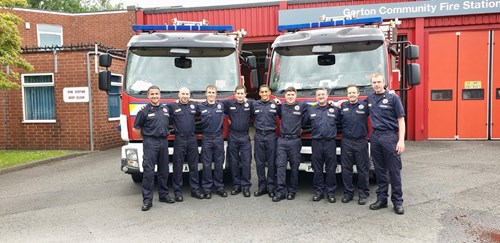 The famous Fan Dance Challenge will see Gorton White Watch take on the 24km route in South Wales carrying 20kg Bergen backpacks, and will include them completing the route covered in the official SAS selection process.
All of the pain and hard work is for a fantastic cause though as the determined group members are already boosting funds for a new youth club – HideOut Youth Zone - in east Manchester.
The charity is set to open in Gorton in the autumn to provide local young people with a safe place to spend quality time while getting active, and even preparing for their future if they wish.
You can show your support by donating to the Virgin Money Giving donation page - or by sharing the link with your friends or on your social media platforms.
GMFRS Crew Manager Pete Fitzpatrick, from White Watch Gorton, said: "HideOut Youth Zone is a charity dedicated to supporting young people. The club will be a safe and inspiring place for thousands of young people aged eight to 19-years-old to enjoy quality time together while staying safe. The HideOut will also provide young people, up to the age of 25, with additional needs a place to enjoy some leisure time.
"White Watch is busy training at the moment, so in between our shifts we are taking to the treadmill - swapping our 15kg Breathing Apparatus sets for 20kg Bergens (loaned to us from the Territorial Army unit in Hulme) - to prepare us as much as possible for the Fan Dance Challenge to raise funds the HideOut and help young people in the area. We've also been training outdoors, in the Lake District and Peak District.
"The Fan Dance Challenge will see us complete part of the SAS selection test, which is 50-years-old and still forms the major first hurdle in the selection process and an indicator as to whether a potential UK Special Forces soldier has the physical and mental determination to complete it within the cut off time set."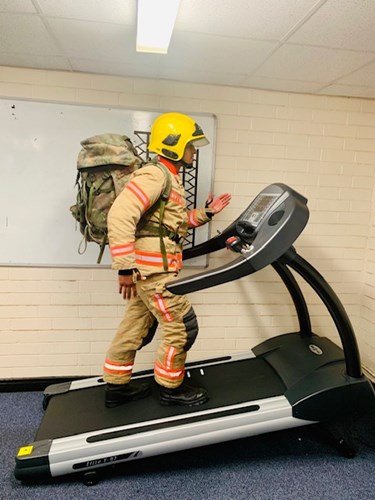 The challenge will begin at the famous red telephone box in the Brecon Beacons National Park, with an immediate ascent of Pen y Fan which is 2,907 feet (886m).
The route then descends on the other side of the peak with a pathed route to the halfway point before turning around and reversing the route. The return leg provides an even tougher challenge with the ascent back up the Fan, known as Jacob's Ladder.
Located in Hyde Road the Youth Zone will be run by a combination of staff members and volunteers. From the autumn the club will be welcoming young people through its doors - where they will have the opportunity to take part in over 20 fun and engaging activities every evening, including sports, arts, music, media, dance and drama, for 50p per visit.
Employability workshops and support will be also available for young people who need help getting into employment, education or training. Inside HideOut's enterprise suite, young people will be encouraged to dream big and develop their entrepreneurial skills.
HideOut Youth Zone CEO Adam Farricker said "We are delighted our friends at Gorton Community Fire Station are taking on this challenge to raise vital funds for HideOut. This is the first step in a longer-term partnership and we look forward to working together to support children and young people across the local community. 
"We know that the impact of COVID-19 and lockdown has disproportionately affected disadvantaged children and young people, which means we are eager to open our door in the autumn, and we are extremely grateful to have the support of GMFRS. Please get involved and support the challenge if you can."
Find out more on the HideOut Youth Zone website (opens in new window).
---
17/07/2020 08:32 AM