GMFRS
GMFRS appoints new Deputy Chief Fire Officer
Greater Manchester Fire and Rescue Service (GMFRS) is set to welcome its new Deputy Chief Fire Officer (DCFO).
Ben Norman, currently Assistant Chief Fire Officer at Lancashire Fire and Rescue Service (LFRS), will join GMFRS' Executive Board in February 2022, following the departure of GMFRS' previous DCFO Dawn Docx earlier in 2021.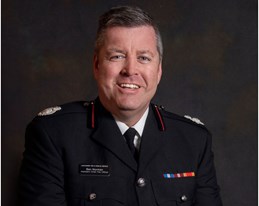 Ben Norman (will become DCFO at GMFRS in February 2022)
GMFRS' Chief Fire Officer Dave Russel said: "I am delighted to offer the position of Deputy Chief Fire Officer to Ben Norman following a thorough assessment centre and offer my congratulations to him on behalf of GMFRS.
"Ben will join a proud team of colleagues in Greater Manchester at a pivotal time in our Service's history, as we continue to implement a programme of major change, designed to improve our Service and importantly, the services we deliver to the people of Greater Manchester. I'm very much looking forward to working closely with him."
Currently Director of Strategy and Planning at LFRS, Ben has served for more than 24 years in the county, where he lives with his wife and daughters.
On being appointed as GMFRS' DCFO, Ben said: "I am thrilled and honoured to have been selected to serve the communities of Greater Manchester as the Service's new Deputy Chief Fire Officer.
"Greater Manchester's Deputy Mayor and Chief Fire Officer launched a four-year Fire Plan earlier this year, detailing how work to date will be enhanced through a culture of excellence, equality and inclusivity, leading to further improvements in prevention, protection and response services, and I am very much looking forward to playing an important role in this going forward.
"Having worked alongside GMFRS during several incidents and activities over the years, I have every confidence that I am joining a team of colleagues who have huge passion, energy and capability to deliver bold ambitions."
Ben was involved in the Winter Hill fire in 2018, when both GMFRS and LFRS worked closely for several weeks to bring the moorland fire under control. He is particularly proud of leading a blue-light collaboration programme in Lancashire which resulted in the saving of £1.6m, and during the pandemic has been influential in his local Resilience Forum.
As GMFRS' DCFO, one of Ben's main responsibilities will be overseeing the strategic planning and performance of the Service.
Ben added: "I have had the pleasure of working in a diverse range of roles during my 24-year career with LFRS and it is evident that every member of the team is dedicated, proud to serve, with a strong focus on 'Making Lancashire Safer', and I wish them all the very best.
"I am now looking forward to starting my new role early in 2022, working collaboratively with my new colleagues, partners and communities to deliver exceptional public service."
---
23/11/2021 10:19 AM