News
Fire service calls for end to needless moorland fires two years on from devastating blazes
Two years on from devastating moorland fires which firefighters spent weeks battling, Greater Manchester Fire and Rescue Service is urging residents to think carefully about their actions to help stop it from happening again.
On June 24, 2018 Greater Manchester Fire and Rescue Service (GMFRS) was called to a large moorland fire in the Stalybridge area which at its peak covered 11 square kilometres. Two days later on June 26 another large moorland fire broke out on Winter Hill, Bolton.
The two fires required hundreds of firefighters from all over the country and support from the Army to extinguish them. The fires raged for three weeks and firefighters were not able to start withdrawing until July 11 when heavy rainfall put an end to weeks of hot and dry weather.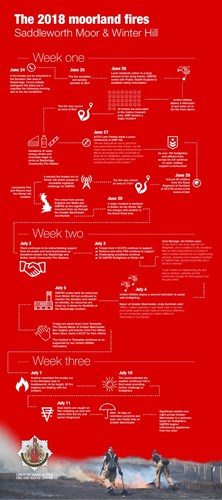 Two years on from the devastating fires, Greater Manchester, and surrounding areas have continued to be blighted by moorland and wild fires. Earlier this month crews tackled a large moorland fire near Dove Stone reservoir, Oldham while GMFRS firefighters were also assisting Lancashire Fire and Rescue Service at a fire on Darwen Moor.
At its height the fire near Oldham required GMFRS to commit 20% of its firefighter resources to tackling the incident.
With temperatures also set to soar to around 30 degrees across Greater Manchester over the next few days GMFRS is urging people to make sure they are being safe.
Assistant Chief Fire Officer Leon Parkes said: "The memories of the fires two years ago and the destruction that was caused are still fresh in the mind of everyone involved. Whether that is the firefighters who worked incredibly hard in hot and difficult conditions to put the fires out, the residents who were forced out of their homes as the flames came rolling down the hillside or people across the world who saw the devastation on television.
"Two years on, we are still all too regularly dealing with fires on the moorland. These can be started a number of ways but we know all too often these are started deliberately or by people being careless with barbecues, campfires or even not disposing of cigarettes properly.
"Our message on this is simple: Never have a barbecue or campfire on the moors or start a fire deliberately. We know most people would never dream of doing either of these things but unfortunately, some people are continuing to do so and in doing so are putting lives at risk.
"People think it's just the flame that sets the moorland on fire from a barbecue but it is also the heat from the disposable barbecue setting the peat and the dry moorland alight which is causing these large moorland fires. These types of fires can often develop underneath the ground and may not be initially visible. They can develop at an astonishing rate and cause immense damage over very large geographical areas.
"It is not just the great risk the fire itself poses but if a firefighter is on the moors dealing with an incident they can't be dealing with other incidents, where lives may be at risk; it really is that simple."
GMFRS' advice is as follows:
Never take a barbecue on the moors or to the countryside
Always extinguish your cigarette and any other smoking materials properly.
Don't leave bottles or glass in woodlands.
Never start a fire of any kind
Keep children away from matches and cigarettes and open fires
If you see a fire in the countryside, report it immediately. Don't attempt to tackle fires that can't be put out with a bucket of water. Leave the area as soon as possible and dial 999
If you witness illegal activity report it to Crimestoppers 0800 555 111
People are also reminded that Public Spaces Protection Orders are in place in Oldham and Tameside banning fires and barbecues on the land across Saddleworth, Crompton and Marsden moors.  Anyone found lighting a fire, barbecue, or other objects such as fireworks and sky lanterns, will be given a fixed penalty notice of £100, or face prosecution.
During one weekend in May, Oldham Council issues five fixed penalty notices to people for taking barbecues on the moors.
---
23/06/2020 16:33 PM