Fire
Derelict building fire - Eccles
Roughly 35 Greater Manchester Fire & Rescue Service (GMFRS) firefighters are currently tackling a blaze at a disused theatre building on Church Street in Eccles.
Crews were called to reports of a fire at a five-storey derelict building, formerly the Crown Theatre, just after 4.45am today, Sunday 1 December.
Firefighters from Agecroft, Atherton, Broughton, Eccles, Gorton, Irlam, Manchester Central, Sale, Salford and Stretford were quickly on the scene and are fighting the fire from the street outside.
With the assistance of colleagues from Greater Manchester Police (GMP) there is a road closure currently in place along a section of Church Street leading to Liverpool Road. There is also some low-hanging smoke in the area so local residents are requested to keep windows and doors closed until the fire is out.
---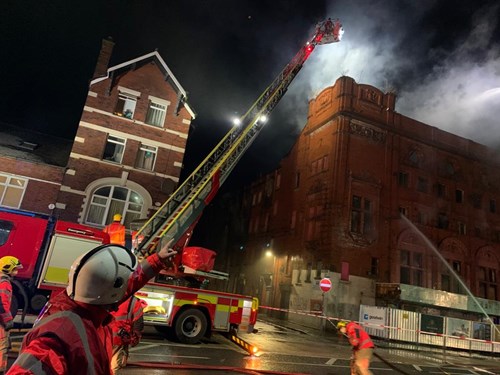 7am update
Greater Manchester Fire & Rescue Service (GMFRS) remains at the scene of a fire at a derelict former theatre in Eccles.
Crews are well established at the incident, fighting the fire from street level and from above using turntable ladders and three jets.
Station Manager Ady Taylor, incident commander on the ground, said: "We have been fighting this fire for around two hours and though it is a large building and we have lots still to do we are making good progress.
"I want to praise the swift actions of firefighters who are operating in challenging conditions – temperatures are freezing and the ground is slippery underfoot. Nonetheless, we are on top of the incident.
"We continue to have to fight this fire from outside the building – the state of its disrepair and the fact it is still dark means it would be unsafe to enter.
"We will be here for some time to come but I want to reassure the public that the situation is under control."
Road closures in the immediate vicinity remain in place and the public are asked to help keep surrounding streets clear of traffic to allow emergency services vehicles and personnel swift and easy access to the scene.
There is still quite a significant amount of smoke in the surrounding area so those living or working nearby are asked to keep windows and doors closed for the time being.
---
1.30pm update
Crews have now left the scene of a fire that burned through all five storeys of a former theatre, cinema and bingo hall in Eccles earlier today.
At its height more than 35 firefighters were tackling the blaze affecting the one-time Crown Theatre on Church Street which caught fire some time after 4am, Sunday 1 December.
Only once the sun rose were firefighters able to gain access to the secured building – which was not connected to mains electricity or gas – and extinguish flames from inside the entrance. However, the damaged and derelict interior made it unsafe to advance any further into the structure, so jets from above aimed down into the building were also deployed.
Throughout the morning firefighters from three stations – Bolton, Manchester Central and Whitefield – remained inside the cordon at the scene, damping down any hotspots and ensuring the building did no reignite.
Chris Roberts, Station Manager for Fire Protection for Bolton and Wigan, said: "GMFRS have just left the scene of the Eccles fire having been actively firefighting for the past eight hours. Crews have shown resilience and bravery in gaining forced entry to the building in order to most effectively extinguish the flames. I want to praise their commitment an ingenuity and I am pleased to confirm the fire is now out.
"All that remains of this building is the brick outer shell. Everything internal – flooring, staircases, balconies and even the roof – has gone. It made fighting the fire from inside the building especially challenging, and we only permitted two firefighters at a time into the concrete entrance hall and the foot of the stairs. They were then able to aim a jet further into the building but needed at all times to be mindful of insecure flooring and any falling debris.
"Local authority building control has attended the scene and confirms there is no risk to the public of any falling masonry from the exterior of the structure. As a result, the surrounding roads have reopened and I would like to thank our emergency service partners and the local community who have enabled us to quickly and efficiently bring this incident to a close."
There are now no road closures in place and the building is in the process of being boarded up. Greater Manchester Fire & Rescue service would like to thank colleagues from Greater Manchester Police (GMP) and Salford Council, and the cooperation of local people, who have all contributed to ending this incident as quickly as possible.
A fire investigation is now under way and GMFRS has yet to determine a probable cause.
---
01/12/2019 06:37 AM