Event Fire
Commitment, bravery and professional excellence recognised at awards event in Bolton
Emergency responders have been recognised for their commitment, bravery and professional excellence in tackling the Cube fire in Bolton. 
On November 15 last year, Greater Manchester Fire and Rescue Service (GMFRS) was called to a fire at the Cube student accommodation in Bolton.
At the height of the blaze, around 200 firefighters were involved in the incident at the six-storey building, with 40 fire engines, three aerial platforms and other specialist appliances on the scene.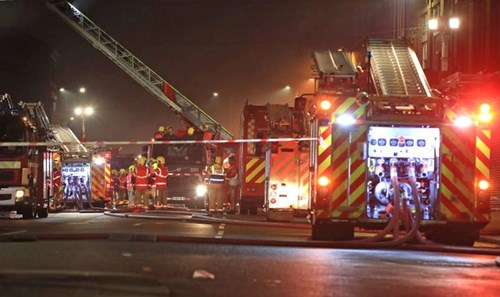 Now, firefighters, as well as colleagues from North West Fire Control, Greater Manchester Police (GMP), Bolton Council and the University of Bolton have received awards and commendations for their rapid response and professional excellence in the safe and orderly evacuation of the building and the tackling of the fire.
A recognition event was held yesterday (Wednesday February 26), bringing together just some of the people involved in tackling the blaze. In total 56 people who were involved in the incident have been recognised by GMFRS.
Among those recognised were North West Fire Control operator Tracy Brindley, who was awarded a commendation - the highest level of award given by GMFRS. She answered a 999 call and gave vital guidance to a woman trapped on the sixth floor. Tracy helped guide firefighters to the woman, who was rescued minutes before the sixth floor was engulfed in flames, and remained calm and assured throughout.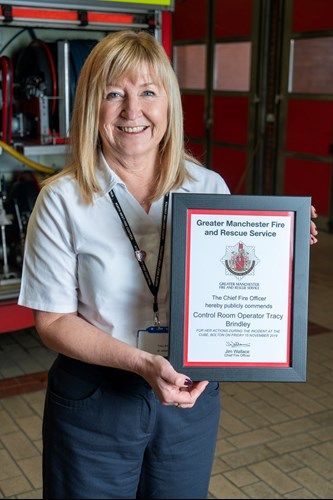 Also recognised were some of the first firefighters on the scene and crews who helped rescue residents from the building in challenging circumstances, sometimes aiding people to safety shortly before the floor they were on burst in to flames.
GMP officers received a GMFRS Certificate of Outstanding performance for their efforts on the night, assisting the evacuation and helping to find people who were unaccounted for.
University of Bolton staff and volunteers worked through the night and following days to direct displaced students, as well as providing emotional support and accommodation advice. They worked to ensure no resident was left with nowhere to stay or without access to food and essential items.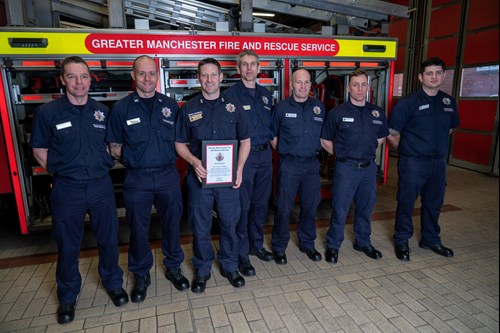 Staff from Bolton Council also provided significant support and guidance throughout and since the incident.
Chief Fire Officer Jim Wallace said: "The support and teamwork that was evident during and after the incident are prime examples of the high standards and professionalism we have within the city-region.
"I was proud to see that this collaboration was also showcased nationally. The decisions and actions taken in both firefighting tactics, evacuation procedures and coordination of resources undoubtedly ensured that everyone was kept safe from harm and no casualties occurred".
Leader of Bolton Council, Cllr David Greenhalgh, said: "On behalf of the whole town I want to offer our thanks to those brave men and women who risked their lives that night in order to save others. We saw the fire unfold first hand and witnessed the sheer bravery of all the firefighters. The University really stepped up and I must pay tribute to the young ambassadors who physically went door to door that night evacuating the block."
"A huge thank you to all the partners who worked together across all emergency services, the University, the Council and Voluntary Organisations – everyone played a fundamental role."
---
27/02/2020 14:57 PM