Fire incident GMFRS Bolton
Commercial fire - Thicketford Road, Bolton
2pm update
After 19 hours spent tackling a fire at an industrial estate on Thicketford Road in Bolton, two fire engines and one aerial appliance remain on scene.
A contractor is on site removing parts of the collapsed structure to allow firefighters to continue fighting the remaining pockets of fire from above.
Fire investigators have arrived on site and begun their investigation.
It is expected that crews will remain on scene for the rest of the day to ensure that the area is made safe.
Residents are advised to keep windows and doors closed and to avoid the area.
9am update
This incident has now been scaled back to four fire engines and one aerial appliance. Firefighters successfully prevented the spread of the fire to other premises.  
Two sectors are still in use and damping down is in progress.
Road closures have been lifted and access is being facilitated for neighbouring businesses, most of which are open.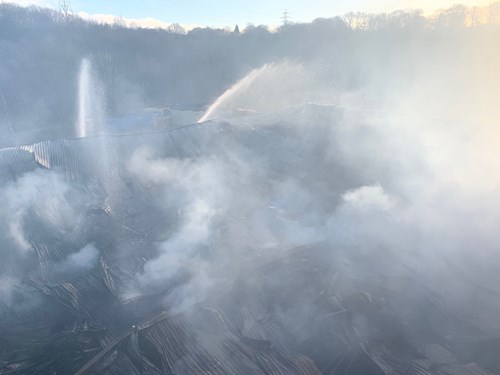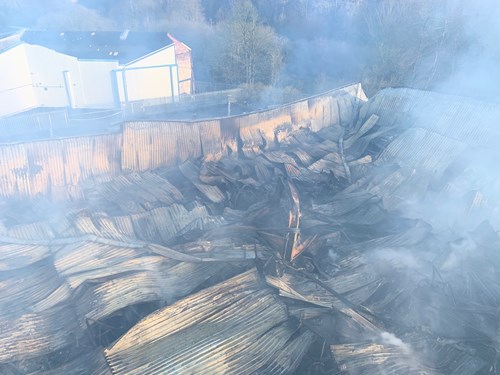 10.30pm
Firefighters are working hard to tackle a fire at an industrial estate on Thicketford Road in Bolton this evening (Thursday 12 February).
Crews were first called to the scene 6.55pm and there are currently five fire engines and an aerial appliance in attendance. At the peak of the incident we had ten fire engines in attendance.  
Firefighters are tackling the incident in two sectors, surrounding the fire to contain any spread.
Station Manager Mike Branney said: "Our crews are working extremely hard to extinguish this fire and are expected to remain at the incident for a number of hours.
"We are urging local residents to avoid the area and to keep windows and doors shut if they live nearby.
"There is a road closure in place and we are working with Greater Manchester Police to minimise the impact of this and open the road as soon as possible.
"I'd like to praise the hard work of our crews dealing with this fire."
---
Article Published: 12/03/2020 22:18 PM