GMFRS
Agecroft and Broughton take part in Road Traffic Collision Exercise
On Thursday, May 2, Blue Watch from both Agecroft and Broughton took part in a combined Road Traffic Collision (RTC) exercise at Agecroft fire station.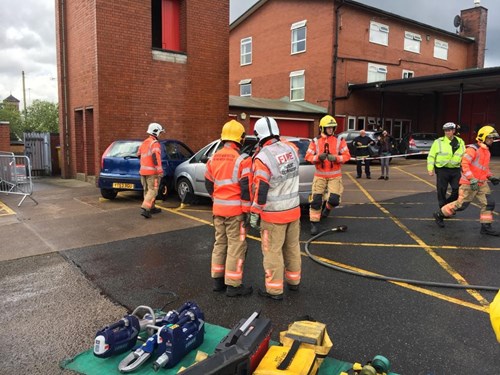 The day brought together a number of different volunteers from other services, including the health service and the Police service.
Volunteers from Salford Health Team, Tara Higgins and Kav Kaur, acted as casualties throughout the exercise, alongside local Police Community Support Officer, Rob Howcroft, who managed the outer cordon. Firefighter, Gav Davies also performed well as a distressed member of the public!
The drill took place to give a number of apprentice Firefighters a practice in a realistic a scenario. Station Manager, Matt Brady, was also in attendance to add more realism to the event.
Firefighter, Adam Lee, who was Officer In Charge for the exercise said, "Collaboration with other emergency services and other local partners increases the efficiency and effectiveness of the service we provide in ensuring everyone across Greater Manchester is kept safe. The exercise was a successful day and everyone had a great time working together whilst creating a realistic scenario for our apprentices to learn from the experience!"
A big thanks to all involved!
---
13/05/2019 12:36 PM