Keeping young people safe from crime
ANTI-SOCIAL BEHAVIOUR
Anti-social behaviour (ASB) causes harassment, alarm or distress to a member or members of the public.
The nature of ASB can include a wide range of behaviours, many of which can cause serious harm to victims and communities and increase their perception of victimisation.
This includes vandalism, public drunkenness, aggressive begging, irresponsible dog ownership, and noisy or abusive behaviour towards neighbours.
KEEPING YOUNG PEOPLE SAFE FROM SEXUAL AND CRIMINAL EXPLOITATION
Supported by Deputy Mayor of Greater Manchester, Bev Hughes, a number of partnership programmes are in place, involving Greater Manchester Police, Greater Manchester Fire and Rescue Service, Greater Manchester Combined Authority, and other Greater Manchester organisations to protect young people in Greater Manchester.
'It's not okay'
'It's not okay' focusses on a number of issues in Greater Manchester such as Child Sexual Exploitation (CSE), and helps people to identify and address complex safeguarding issues.
You can visit the dedicated 'It's not okay' website here
'Trapped'
'Trapped' is part of the wider 'It's not okay' partnership work, with the focus on criminal exploitation and helping young people and vulnerable adults.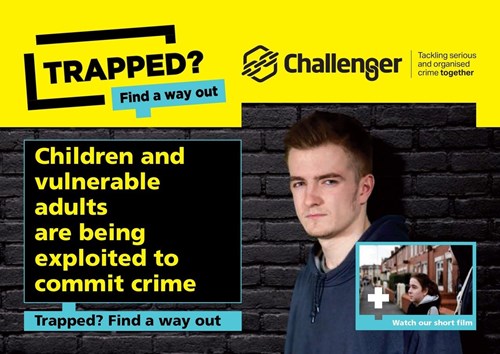 You can find out more about a video campaign launched in May 2019, which aims to help people who find themselves 'trapped', here - or by clicking on the image above.
Fearless
Fearless is a site where you can access non-judgemental information and advice about crime and criminality. What makes this site different is we also provide you with a safe place to give information to us about crime – 100 per cent anonymously.
Visit Fearless website here