Fire
Church fire - Oldham
7.30am update
Just one GMFRS crew remains at the scene of a church rectory fire in Oldham.
The sole fire engine, from Wythenshawe, will remain on site through the morning as fire investigators arrive and commence their work.
An inspection of the site was conducted at daybreak and the fire itself is completely extinguished.
The road closure affecting Glodwick Road, the B6194, has been lifted, though the pavements outside St Mark with Christ is closed to pedestrians.
GMFRS would like to thank local people for their co-operation and support throughout the night.
11pm update
Firefighters continue to tackle a blaze affecting the rectory of a church in Oldham.
Greater Manchester Fire & Rescue Service (GMFRS) have been at the scene for around two hours with crews from six stations still engaged with the incident.
Incident Commander, Station Manager Michael Branney, said: "Our firefighters are working extremely hard and we're making good, steady progress. We're using hoses to target specific points of fire while covering jets are keeping the incident under control. It's particularly useful to be able to aim water down from above via our aerial ladder so you can combat the fire from multiple angles.
"The blaze itself is affecting the disused rectory of the church. It's a three storey structure and when we first arrived on scene the fire had taken hold of the roof, which measures about 50 meters by 20 meters.
"We will be here into the night, alongside colleagues from Greater Manchester Police and North West Ambulance Service. I would like to reassure local people that the incident is under control. I also want to thank them for their co-operation this evening which has enabled us to operate as quickly and efficiently as possible."
Nearby road closures remain in place and, due to the smoke in the air, residents close to the incident are reminded to keep their windows and doors closed.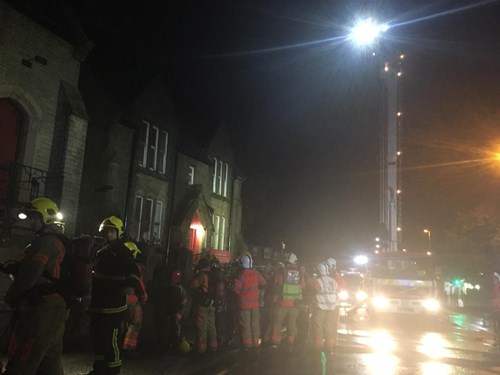 9.45pm update
Six fire engines are currently at the scene of a fire at a church in Glodwick, Oldham, after Greater Manchester Fire & Rescue Service (GMFRS) were called to the scene just after 9pm this evening (Thursday 26 September).
The roof of the rectory adjoining St Mark with Christ was well alight when crews from Oldham, Chadderton, Hollins, Blackley, Heywood and Mossley arrived.
Firefighters quickly set to work and are tackling the flames using three hoses and a jet, and are battling the blaze from ground level and from above using an aerial ladder.
Glodwick Road, the B6194, is closed and local people are asked to keep nearby roads clear of traffic to allow easy access for emergency service vehicles.
There is also smoke in the air so those living close to the church are requested to keep the windows and doors of their properties closed for the time being.
---
26/09/2019 22:22 PM